Tuesday, May 6, 2014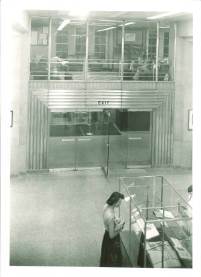 In April, the University of Iowa Libraries was awarded $500,000 by the Roy J. Carver Charitable Trust in support of the renovation of the Main Library Exhibition Space. Very exciting news!
Our current space was constructed in 1951 and has not changed much since then. Over the years, using the space as an exhibit became more and more challenging. Plus it was a space that people walked through to get from one side of the building to the other making it very difficult to engage anyone in an exhibit.
Due to the Learning Commons project which was completed in 2013, the current exhibition space is now a self-contained area. Anticipating the exhibition possibilities that the
Learning Commons renovation would open up, we began working with consultant Liz Kadera on a gallery and exhibition space presentation. We were delighted that our new Library Director John Culshaw liked our concept drawings and pulled a team together to draft a proposal to present to the Carver Trust.
The renovation will create a more suitable and secure space dedicated to displaying books, manuscripts, maps, documents, artworks, and more from the Libraries collections.
Construction is planned to begin this fall with a proposed completion date of spring 2015.
First image courtesy of the UI Archives, 1960. Second image courtesy Liz Kadera, 2013.