Thursday, April 10, 2014
Submitted by Emily F Shaw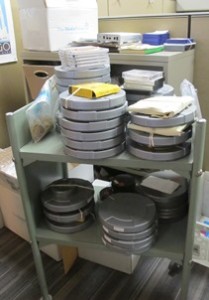 In addition to millions of books, journals, and electronic resources, the University of Iowa Libraries is also the permanent home for film, audio, and video collections.
Projecting an original 16mm film can be risky, and using playback equipment that is dirty or in disrepair can cause permanent damage. Protecting the original is critical; many of our media collections are unique and most are actively degrading. In order to preserve this content and make it accessible to we need to digitize it.
I recently traveled with local historian and collector Mike Zahs to visit The Media Preserve, the vendor we contracted to digitally reformat some of Iowa's most precious "time-based" media collections.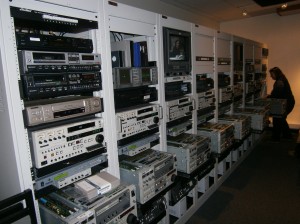 The Media Preserve is staffed by enthusiastic and knowledgeable professionals with many of experience working in the film, video, and recording industries. The studios at The Media Preserve are designed to minimize risk to customer assets, such as power surges, lightning strikes, or electromagnetic interference. Their studios are fully equipped to read and play back every type of time-based media content imaginable.

For common consumer media like VHS and ¾" Umatic tapes, the digital transfer process has been engineered to allow a small number of staff to oversee the digitization of multiple assets at once, thereby lowering transfer time and cost to their clients. In addition, The Media Preserve has a film preservation lab equipped for cleaning, repair, and high-resolution scanning of film. Their film preservation staff recently digitized half a dozen of Mr. Zahs' badly degraded 35mm nitrate films created in the first few years of the 20th century.