Friday, February 17, 2012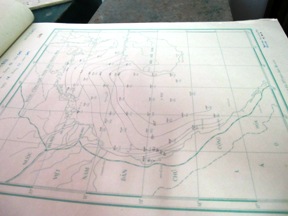 Vietnam Institute of Oceanography started in 1922 as "Service Océanographiques des Pêches de l'Indochine and specializes in oceanography of Vietnam. One of the special collections is the records of the Expedition of Cooperation of Vietnam and China in Tonkin Gulf, 1959-1961. So far these records are in good condition.
These records along with other rare publications are stored on the second floor without good temperature, humidity control, and air circulation. Staff will be requesting the addition of a ceiling fan to improve air circulation. In our final meeting with library and institute staff, we discussed the possibility of making a formal proposal for a special room to house these materials. As always, money is an issue and electricity is expensive. We will be exploring ways to find a better environment for these rare materials. We will be working with VNIO staff to draft plans for improving the storage conditions for the entire collection. Our visit was just the beginning.