Tuesday, February 14, 2012
Today we worked with the rare books. Two years ago Yen prepared a list of rare books for review. Both Linda and Yen checked different sources to determine how widely the titles were held and if they have been digitized. From this list we selected only three titles (20 volumes) to inspect, given our time limitations. As a gift to the Vietnam Institute of Oceanography library, the University of Iowa Libraries plans to make boxes for these select titles. I just hope my measurements are accurate.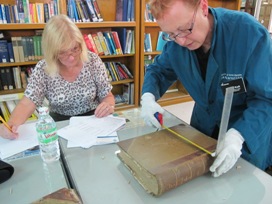 Each book had to be measured in several places to find the highest, widest deepest part in order to know how large to make each box. I decided to err on too big rather than too small. Plus, we decided with the 14 volume set to make all the boxes the same height and width and just adjust the depth — a shortcut that we probably wouldn't take if we were working in a lab. We checked the measurements twice and Linda recorded the information.
The books were in mixed condition. All bindings had extensive damage. Most of the volumes had intact legible text except for one extremely brittle book. Fortunately, the brittle book is held by two other libraries and has been digitized.