On October 12th, 2004, Sylvie Merian, Reference Librarian at the Pierpont Morgan Library, provided the UI book studies community with a terrific illustrated lecture on the medieval Armenian manuscript book, entitled What Makes a Medieval Manuscript Medieval? Problems with the Periodization of Armenian Manuscripts. She defined the Armenian manuscript book as a medieval product despite its persistence into the modern era and despite its strangely modern visual content. The Armenian manuscript book remained medieval as a purely liturgical product that did not extend to secular genres or secular production. The Armenian manuscript book also remained medieval because of the long persistence of its distinctive materials and structural features.
Sylvie also provided a morning seminar session on Armenian bookbinding on October 13th. Ten workshop participants learned that the Armenian book has unique characteristics that are both hybrid and transitional to book traditions of other cultures. A  composite of reinforced chain stitching onto light cords which are seated in deep sewing kerfs, ornate and compound endbands and a tooled decoration including the vertical striation of the spine are some of the signature Armenian bookbinding features.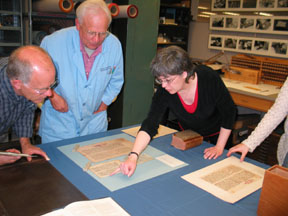 Sylvie L. Merian received her Ph.D. in Armenian Studies from Columbia University's Department of Middle East Languages and Cultures in 1993. Her dissertation was titled "The Structure of Armenian Bookbinding and Its Relation to Near Eastern Bookmaking Traditions." From 1993-94, she was Curatorial Assistant at the Pierpont Morgan Library, where she contributed extensively to the 1994 exhibition, "Treasures in Heaven: Armenian Illuminated Manuscripts", and was a co-author of the accompanying catalogue. She has published and lectured on Armenian codicology and manuscript illumination, as well as the history of the book, and has curated small exhibitions on Armenian manuscripts and printed books. She is presently the Reference Librarian at the Pierpont Morgan Library.