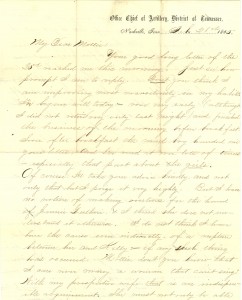 Office Chief of Artillery, District of Tennesee,
Nashville, Tenn., Feb. 28th 1865.
My Dear Mollie:
Your good long letter of the 23rd reached me this morning. Just see how prompt I am to reply. Don't you think I am improving most marvelously in my habits? I've begun well today – rose very early (although I did not retire very early last night) and finished the business of the morning before breakfast. Soon after breakfast the mail boy handed me your letter. And I've read it over lots of times – expecially that part about the girls.
Of course, I'll take your advice kindly, and not only that but I prize it very highly. But I have no notion of making overtures for the hand of Jennie Guthrie, & I think she does not understand it otherwise. I do not think I have been the cause, even indirectly, of a rupture between her and Kelly – if any such thing has occurred. Mollie, don't you know that I can never marry a woman that can't sing? With my prospective wife, that is an indispensible acquirement. She must not only be able to sing, but she must sing well. I'm not going to look for a wife till I get out of the army. I'll have plenty of time then to find one before circumstances will permit me to marry. I had a letter from Tom yesterday containing a photograph of himself, with his beard shaved off his face on the sides of his face. He looks well in the new cut. I have heard from Sammy but once since since coming from home. I had no premonition of mother's death. Anything of the kind was the farthest possible removed from my mind. I had made application for a leave of absence with good prospect of success and was anticipating so much pleasure from a visit with her and the rest of you at home, when the sad news reached me. My leave came the next day, but I did not then care to go home. Mollie, I'll write more next time. I received and answered yours with the pictures.
Goodbye, with love – much love
Affectionately,
Johnnie