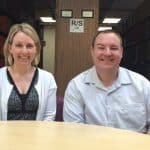 Hardin Library recently welcomed two new Clinical Education Librarians, Heather Healy and Matt Regan.
Heather is the primary liaison to Carver College of Medicine and to a number of UIHC departments, including Internal Medicine. Before arriving at Hardin on July 1, Heather was a health sciences librarian at KU Medical Center in Kansas City, and previously worked at Kansas State University libraries. Before receiving her Master of Library Science degree from Emporia State University, Heather worked as an editor for Human Kinetics, a health sciences publisher. You can contact Heather at heather-healy@uiowa.edu.
Matt Regan joined the Hardin staff on July 18 and will be the liaison to Family Medicine and several other departments. He will also support Hardin's website and other technologies. An Iowa native, Matt received his Bachelor of Arts degree from the University of Iowa. After receiving his Master of Library and Information Science Degree from Dominican University, he was a reference and instruction librarian at West Texas A&M University in Canyon, Texas, where he served as liaison to Nursing and other health sciences programs. You can contact Matt at matthew-regan@uiowa.edu.
Welcome to Hardin, Heather and Matt!