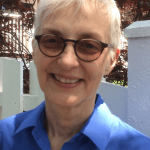 Meet Jacqueline Leskovec, Network Librarian for the National Network of Libraries of Medicine's Greater Midwest Regional Office.
Jacqueline Leskovec, MLIS, MA, RN has been with the National Network of Libraries of Medicine since 2005. Her roles at the former office in Chicago evolved from Outreach and Communications Coordinator, Outreach and Evaluation Coordinator, and Outreach, Planning, and Evaluation Coordinator during that time.
Prior to her work at the Greater… Midwest Region, Jacqueline was on the faculty at the University of South Florida Area Health Education Center program, providing outreach services over a nine-county region. She was branch manager at the Advocate Illinois Masonic Medical Center in Chicago, IL. Before her foray into health sciences librarianship, Jacqueline worked for almost twenty years as a nurse.
In her new role, Jacqueline will enhance network membership by building upon current connections and creating new partnerships throughout the Greater Midwest Region and nationally.
Jacqueline will be working from her home office in Chicago and traveling to the office in Iowa City once monthly for staff meetings.