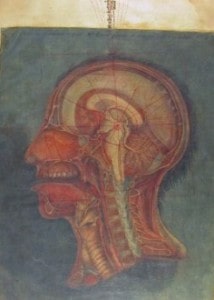 JACQUES FABIAN GAUTIER D'AGOTY (1717-1785). Anatomie de la tête. Paris: Chez le sieur Gautier, M. Duverney, Quillau, 1748.
Gautier, a French printmaker, was an assistant to Le Blon and, like Ladmiral, claimed the color printing process as his own. Gautier published some ten collections of colored plates of various portions of the anatomy, and he was the first person to print anatomical plates in color on a large scale.
Choulant writes that "his anatomic illustrations . . . impress the critical observer with their arrogance and charlatanry and do not recommend themselves to the student of anatomy either for their faithfulness and reliability or for their technique" (Choulant-Frank, p. 270).
The dissections and preparations for the eight large figures in this atlas of the anatomy of the head were prepared by Joseph Guichard Du Verney, and some of the plates are among the most elaborate produced by Gautier, especially notable for the intricate network of blood vessels which are meticulously indicated by direct color printing.
This extremely rare work is an important piece of book and anatomic illustration.  You may view this work in the John Martin Rare Book Room, Hardin Library for the Health Sciences. Make a gift to the Hardin Library for the Health Sciences by donating online or setting up a recurring gift with The University of Iowa Foundation.