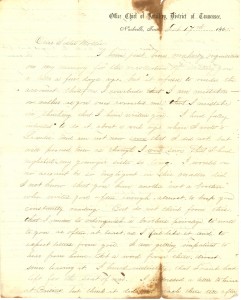 Office Chief of Artillery, District of Tennessee,
Nashville, Tenn., Feb. 17th 1865.
Dear Sister Mollie:
I have just been making requisition on my memory for the recollection of writing you a letter a few days ago, but it refuses to render the account, therefore I conclude that I am mistaken – or rather as you once corrected me that I mistake in thinking that I have written you. I had fully intended to do it, about a week ago when I wrote to Leander, and am not now sure that I did not, but will proceed now as though I was sure that I had neglected my younger sister so long. I would on no account be so negligent in this matter did I not know that you have another "not a brother" who writes you often enough, almost, to keep you constantly reading. But do not think from this that I mean to relinquish a brother's privalege to write to you as often, at least, as I feel like it and to expect letters from you. I am getting impatient to hear from home. Not a word from there, direct, since leaving it. I heard, indirectly, that Frank had left for the seat of war. I addressed a letter to him at Pontiac, but think it did not reach there till after he left. I have been very busy all week. We have been inspecting the Artillery at this post and it has been a very laborious work, but we finished it yesterday – inspected five Batteries – and now I have a leisure hour, and will devote the largest part of it to chatting with you. Some one wrote me – Gussie Kent I think – that Baby Howard was sick, had the whooping cough. I hope the little fellow is better. Write me a whole letter about your self and the baby – and I'll not prohibit your saying a word about Frank. I had a letter from Bro. Tom dated at Cleveland, a few days ago. He was well. Did not give any news of consequence. The burden of his communication was about the girls. Mollie, I wish I was married – wish I had a good wife to bring down here. I am nicely situated for keeping house. We occupy for Head Qrs. a fine large mansion – the late residence of the rebel Col Bryan – and I could locate my family here in good style. Wouldn't that be nice soldiering? Mollie you select me a wife and I'll apply for a leave of absence of a week, to go and get married. I'll beat Tom yet if he don't be spry. But seriously, I think Sammy will beat both of us. Tom is too full of business to marry and I will never save money enough to purchase the necessary matrimonial papers. Sammy will turn out the only sensible boy in the family. He will come out of the service with five or six hundred dollars and be in circumstances to take unto himself a spouse and go into business. I have about made up my mind that it is better for me to be in the army than out of it. This is the only place in which I can support myself, and therefore I shall remain in the service of our Uncle until his rebellious children are subdued and then go to Mexico and join the Liberals. There I shall win fame enough to support me in my declining years. This is not an air castle that I am building, is it? I wish I had Sammy with me here. Write to him very often. He writes me that he gets letters from home only semi occationally. Love to all.
Goodbye Mollie
Very Affectionately
Your Brother
Wm J. Murphy