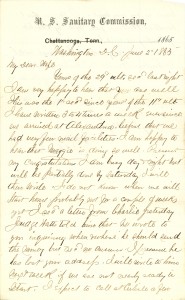 U.S. Sanitary Commission [letter head]
Washington, D.C., June 2nd 1865
My Dear Wife
Yours of the 29th ult. recd. last night. I am very happy to hear that you are well. This was the 1st recd. since yours of the 11th ult. I have written 3 to 4 times a week ever since we arrived at Alexandria; before that we had very few mail facilities.
I am happy to hear that Maggie is doing so well. Present my congratulations.1
I am busy day & night but will be partially done by Saturday.2 I will then write. I do not know when we will start home, probably not for a couple of weeks yet.
I recd. a letter from Charlie [Culver] yesterday. Judge Watts told him that he wrote to you inquiring when & where he should send the money but recd. no answer.3 I presume he has lost your address. I will write to him next week if we are not nearly ready to start. I expect to call at Carlisle a few hours on my way home. I drew one hundred dollars from Watts by Charlie yesterday; it will be here to-day.
Mollie is lying very sick at the National Hotel, Washington. Bro. Wes' Regt. has been sent north & is in camp near Philad. Penna. Wes will go as soon as Mollie can be removed. I have not had time to go & see them, but recd. a letter from Wes. I must close for the present.
May God bless you.
Your affect. Husband
J. F. Culver
Mary Culver had undoubtedly written her husband that Maggie Utley had given birth to a baby girl.
Orders were received on the 21st for company commanders to have all their returns, muster rolls, and accounts up-to-date and in order by June 1. General Sherman, on the previous day, had notified the adjutant general that much progress has been made "in the muster out and rolls of discharges." General Slocum had given assurances that he could complete "the rolls and discharges" for his Army of Georgia within ten days. Distractions were numerous and work lagged. All trains departing Washington were crowded with discharged soldiers on their way home. The cheering of these men, as the trains rumbled northward, was heard in the camps clustered around Fort Lincoln, about one-fourth mile east of the right-of-way of the Baltimore & Ohio. General Sherman on the 30th had issued his farewell order to his troops, thanking them for their love of the Union, for their fidelity to him, for enduring so bravely the privations and hardships, and for their bravery in numerous battles. Grunert, History of the 129th Illinois, pp. 265-66; O.R., Ser. I, Vol. XLVII, pt. III, p. 598.
Judge Frederick Watts of Carlisle, as administrator of the estate of Joseph Culver, was charged with disbursing the assets to the heirs.