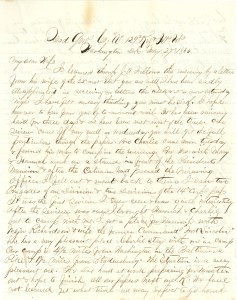 [google-map-v3 width="400″ height="300″ zoom="12″ maptype="hybrid" mapalign="right" directionhint="false" language="default" poweredby="false" maptypecontrol="false" pancontrol="false" zoomcontrol="true" scalecontrol="false" streetviewcontrol="false" scrollwheelcontrol="false"  addmarkermashupbubble="false" addmarkerlist="38.89037; -77.031959{}1-default.png" bubbleautopan="true" showbike="false" showtraffic="false" showpanoramio="false"]
Head Qurs. Co. "A" 129th Regt. Ills. Vols.
Washington, D.C., May 27th 1865
My Dear Wife
I learned through J. A. Fellows this evening by a letter from his wife of the 22d inst. that you are well. I have been sadly disappointed in receiving no letters this week, & it is now Saturday night. I have felt uneasy thinking you must be sick. I hope, however, to hear from you by to-morrow's mail.
It has been raining hard for three days, & we have been wet most of the time. Our Review came off very well on Wednesday [the 24th]. You will get the full particulars through the papers. Bro. Charlie came down Tuesday & found his way to camp in the evening. Bro. Wes. with Mary & Hannah were on a stand in front of the President's Mansion, &, after the Column had passed the Reviewing Officer, I fell out and went back to them. I saw two Brigades of our Division & two Divisions of the 14th Corps pass.1
It was the first Review I ever seen & was quite interesting. After the Review was over, I brought Hannah & Charlie out to camp with me. I got a place for Hannah with Major Richardson & wife, the former commands "Fort Lincoln."2 She has a very pleasant place. Charlie stays with me in camp. Our camp is 4-1/2 miles from Washington on the Baltimore Pike & 1-1/2 miles from Bladensburg. The situation is a very pleasant one.
We are hard at work preparing for muster out & hope to finish all our papers next week. We have not learned yet what time we may expect to go home, but 'twill not be long.
I was in Washington yesterday in company with Hannah, Charlie, Maj. Richardson & wife, & Mrs. Cartwright. The latter is wife of Lt. Cartwright, Bro. of Mrs. Richardson, & have been married but a week.3 It rained very hard all day, & we were kept close to the houses & the ambulance. We visited the Capitol & Patent Office. Considering the weather, we had a very pleasant trip.
Hannah & Charlie will go home on Monday morning [the 29th]. I could not drive from my mind the idea as we passed down the Avenue on Wednesday [24th] that you might be present. I thought there would certainly be a delegation from our part of the State thus affording you an opportunity to come. I know you would have enjoyed it. It occurs to me just now, however, that you could not leave Sister Maggie [Utley] which may also account for the long intervals in your letters.4
Another week has passed away, & another Sabbath approaches. I hope soon, very soon, to spend them with you in God's service. I will probably write to-morrow if I am not called on for too many reports. Always when we get into camp as now there is a few months back work to make up, & the calls for papers are almost incessant. I made up the Muster & Pay Rolls to-day. We will receive part pay before we start home.
I will close for to-night; it is almost 11 o'clock. Charlie & I spent the evening with Hannah at the Major's. All the boys are well & are making good use of the time looking around Washington. Remember me in love to all the family. Kiss Howard for Papa. May God bless you & keep you safe from harm until my return.
Your affect. Husband
J. F. Culver