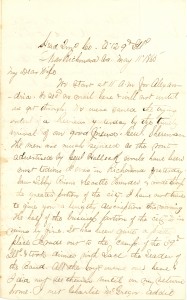 [google-map-v3 width="400″ height="300″ zoom="12″ maptype="hybrid" mapalign="right" directionhint="false" language="default" poweredby="false" maptypecontrol="false" pancontrol="false" zoomcontrol="true" scalecontrol="false" streetviewcontrol="false" scrollwheelcontrol="false"  addmarkermashupbubble="false" addmarkerlist="37.5407; -77.433654{}1-default.png" bubbleautopan="true" showbike="false" showtraffic="false" showpanoramio="false"]
Head Qurs., Co. "A", 129th Ills.
Near Richmond, Va., May 11th 1865
My Dear Wife
We start at 11 A.M. for Alexandria. We recd. no mail here & will not until we get through. We were saved the trying ordeal of a Review yesterday by the timely arrival of our good friend Genl. Sherman. The men are much rejoiced as the route advertised by Genl. Halleck would have been most tedious.1
I was in Richmond yesterday. Saw Libby Prison & Castle Thunder & rode through the greater portion of the city.2 I have not time to give you a lengthy description this morning. The half of the business portion of the city is in ruins by fire. It has been quite a pretty place. I rode out to the camp of the 39th Ills. and took dinner with Lace, the Leader of the Band.3 All the boys were over here, & I did not see them until on my return home. I met Charlie McGregor, Addie Wilson, & Jones.4 They are all well; Charlie looks very well. I had not opportunity to talk with them, but we will see them to-day as we pass through the city.
We were cheered a few moments ago by the news that a mail had arrived, but it proved to be a very small one—only two letters for my Company & none for me. We must be content to wait until we reach Alexandria.
I have a negro [freedman] for Bro. Utley on trial. If he proves to be worth anything, I will try & take him through; if not, I will drop him at Alexandria.
All the boys are in good health. We will be about 7 or 8 days on the way. The papers speak of a Grand Review of all the Armies at Alexandria, the 20th inst. I must close & pack up. We hope to be at home early in June.
May Our Father in Heaven bless us with life & health. Kiss Howard for Papa. Remember me kindly to all. I shall look anxiously for late news at Alexandria as it will only require 4 or 5 days for mail to reach us there from home.
Good Bye, God bless you,
Your affect. Husband
J. F. Culver