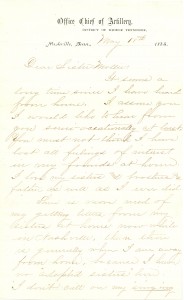 Office Chief of Artillery
District of Middle Tennessee.
Nashville, Tenn. May 18th 1865.
Dear Sister Mollie:
It seems a long time since I have heard from home. I assure you I would like to hear from you semi-occationally at least. You must not think I have lost all feelings of interest in my friends at home. I love my sisters and brother and father as well as I ever did.
There is more need of my getting letters from my sisters at home now while in Nashville, than there is generally when I am away from home, because I have no "adopted sisters" here. I don't call on my "singing bird" any more. Perhaps you don't know who I mean it's the girl from Michigan whom I mentioned in a letter to you a few weeks ago. Before I was aware of the fact I had conceived a very tender regard for her and to prevent its growth I am obliged to forgo the pleasure of her company. I have made two short calls within the last half month and they will be less frequent in future. This is greater self denial than I am accustomed to exercising. If she was pious I would not hesitate- I do not hesitate now, but I mean that I would act promptly contrary to my present course. I shall wait for her and if, in the course of events she becomes a member of the Christian fold before her affections are won by another, I shall request the privalege of folding her in my arms and of taking upon my self the responsibility of a family. You see, Mollie, my matrimonious prospects though very bright are not immediate. I wish you knew this girl.
I am acquainted with a number of southern girls, but I don't ask rebel women to be my sisters, I dont think enough of them for that. though they are willing to smile graciously on the boys in blue. And as for marrying one of them, "that proposition", as Pres. Johnston said about Sherman's peace negotiation, "is not debatable"
Even if I did like them as a class and if there were no other objection to them than that they were rebels or had been rebels- no amount or kind of inducement could cause me to so insult the good, loyal, true girls of the north who have stood firmly by us and the country during all this struggle. A few Northern soldiers have been soft headed or mean enough to mary rebel women, but they are very few who have so disgraced themselves, and I hope they will remain in the south, we don't want them North.
I have not heard from Frank or Leander or Tom since last you wrote me. My health has not been so good lately- have lost twenty pounds in a month. Write often.
With love & a Kiss I remain
Ever Yours
Johnie