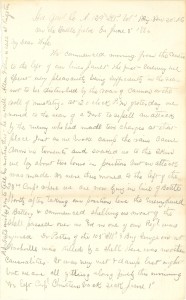 Hd. Qurs. Co. "A" 129th Ills. Vols., 1st Brig. 3rd Div. 20th A.C.
on the Battle field, Ga., June 3rd 1864
My Dear Wife
We commenced moving from the centre to the left of our lines June 1st. The first evening we spent very pleasantly being sufficiently in the rear not to be disturbed by the roar of cannon or the roll of musketry.1
At 2 o'clock P.M. yesterday [the 2nd], we moved to the rear of a Fort to repell an attack by the enemy who had made two charges at that place. Just as we broke camp, the rain came down in torrents and soaked us to the skin. We lay about two hours in position, but no attack was made.2 We were then moved to the left of the 23rd Corps, where we are now lying in line of Battle.3
Shortly after taking our position here, the enemy opened a Battery & commenced shelling us. Most of the shells passed over us and no one of our Regt. was injured. Dr. Potter of the 105th Ills. & Brig. Surgeon at Nashville was killed by a shell.4 There was no other casualties. It was very wet & damp last night, but we are all getting along finely this morning.
We left Corpl. Chritten back sick June 1st. From all I can learn everything is going full as well as was anticipated. The enemy is still losing ground, while we are steadily gaining. This is the 9th day of the Battle. It would be a great relief to get beyond the noise & tumult of the Battle Field and rest for a short time, but all seem perfectly willing and anxious to stand up to duty. A few days will make a vast change in the aspect of affairs, and I confidently expect to give you the joyful news of the enemy's complete defeat and route before many days. The Troops are rapidly coming up, and the line of Battle is being so rapidly changed that the Enemy will not have time to fortify.
My health is still good, for which I feel very thankful. God has been very good to me and has bestowed upon me all needful blessings. He has been truly "My Father."
I have recd. no letters from you since Harry's [McDowell] return on Sunday last though we have had one mail since. Let us unite our voices in praise to God for his numerous blessings and for so specially caring for us. Kiss Mother and Maggie for me. Remember me kindly to all. Be of good cheer and trust all to "Our Father" who doeth all things well. May his grace richly abound in our hearts and prepare us for the discharge of every duty and every change that awaits us. Committing ourselves with all we have and love to Him, I remain as ever
Your Affect Husband
J. F. Culver
P.S. Nate [Hill] wishes you to tell his mother that he is well. Allen Fellows is still at Kingston. I have not heard from the wounded since I last wrote.