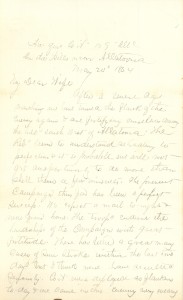 Hd. Qurs. Co. "A" 129th Ills.
In the Hills near Allatoona
May 24th 1864
My Dear Wife
After a severe day's marching, we have turned the flank of the enemy again & are fortifying ourselves among the hills south west of Allatoona. The Rebs seem to understand retreating to perfection, & it is probable we will not get an opportunity to do more than shell them a few minutes.1 The present Campaign thus far has been a perfect success.
We expect a mail to-night & news from home. The troops endure the hardships of the Campaign with great fortitude. There has been a great many cases of sun stroke within the last two days, but I think none have resulted seriously. Co. "A" were deployed as flankers to-day, & we came in this evening very weary.2
My health is very good and seems to improve rather than diminish. I heard from [Lt.] Smith yesterday; he is getting along finely. Allen Fellows is well.
I do not think there will be much fighting this side of Atlanta which we are nearing rapidly. If the Rebs cannot fight through this country, they will surely not stand long any place. We captured two more cannon yesterday. We carry our bridges with us. The Rail Road bridge across Etowah River, I understand, was saved without any serious damage.3
All the boys are well & in good spirits. The country through which we are passing is very fine and promises fine crops. Everything is pleasing. The fruit will soon ripen, & berries are coloring.
I must close as the mail leaves shortly. We have built quite a formidable fortification in front of our guns to prevent a surprise.4 There was some cannonading on our right & light skirmishing on our front as we came in, but that has been an every day occurrence for so long that we have ceased to notice it. Write often. Our mail goes and comes quite regularly.
Genl. Sherman issued an order urging soldiers to write to their families and friends but forbidding newspaper correspondence.5 I will write every opportunity. May Our Father in Heaven preserve you in health & bless us with all things needful. Give my love to Mother and Maggie, Chris [Yetter] & Nate [Hill] are well. May Holy Angels guard thee.
Your Affect. Husband
J. F. Culver