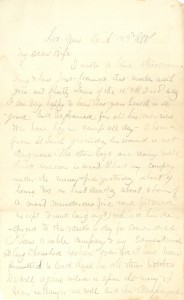 Hd. Qurs. Co. "A" 129th Ills.
[Near Cassville, Ga., May 20th 1864]
My Dear Wife
I wrote a line this morning & have just learned that another mail goes out shortly. Yours of the 10th & 11th I recd. to-day.1 I am very happy to hear that your health is so good. God be praised for all his mercies.
We have lay in camp all day. I heard from Lt. Smith yesterday, his wound is not dangerous.2 The other boys are doing well; Fred Huetson is worst.3 I had my Company under the enemy's fire yesterday about 4 hours,4 and on last Sunday [the 15th] about 6 hours of a most murderous fire, none faltered except Frank Long (Sergt.) & I had him reduced to the ranks to-day for cowardice.5 I have a noble Company & my earnest wish so long cherished has been granted. I have been permitted to lead them in all their battles. We will again advance upon the enemy, & I fear no danger. We will end this Campaign with brilliant and permanent success.
Continue to write often. A letter is a great treat. I scarcely think our letters yet go beyond Chattanooga or Nashville, but you will get them by & by. May God bless you and keep you by his Grace. Remember me to all and accept the love of
Your Affect. Husband
J. F. Culver
Much obliged for the stamps. I have recd. all.