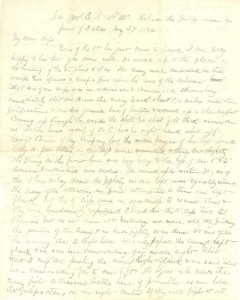 Hd. Qurs., Co. "A" 129th Ills.
Behind the fortifications in front of Dallas, May 27th 1864
My Dear Wife
Yours of the 17th has just come to hand.1 I am very happy to hear that you were well. We moved up to this place on the evening of the 25th about 5 p.m. The enemy were concealed in the woods and opened a terrific fire upon the head of the column. The 1st Div. of our Corps was in advance & commenced skirmishing immediately. The 1st Div. drove the enemy back about 11/2 miles into their fortifications, & our Div. formed line of battle & moved up to their support.2 Coming up through the woods, the shell and shot fell thick around us. Walter Good, orderly of Co. "C", had his right hand shot off.3 George Conner of my Company lost the index finger of his left hand.4 Only a few others in our Regt. were wounded & those but slightly.5
The firing on the front line was very heavy, & the loss of our 1st & 2nd Divisions, I understand, was severe.6 We moved up to within 30 yds of the 1st line & lay down. The fighting on our left was equally severe. The enemy, after attacking our front, attempted to turn our left flank, but the 4th Corps were in readiness to receive them & they were handsomely repulsed.7 I heard that the 4th Corps took 2 cannon but do not know it.8
Yesterday we were all day finding the position of the enemy & no hard fighting was done. We are told this morning that 2 Corps have already passed the enemy's left flank, & we can hear cannonading far on our right.9 Also that 2 Corps are pushing the enemy's Right-flank, & we can also hear cannonading far to our left. The object is to make the enemy fight a decisive battle here if possible. We now hold the fortifications on our right centre.10 If they will fight at all, we can whip them easily. We are supported by line after line & fortification after fortification for miles in our rear. Those that have just come up from the rear say that there is no end to our Army.
There has been heavy cannonading on the line we occupied yesterday but no response from the enemy. My health is excellent, & I feel very thankful God has specially preserved & blessed me. Chris [Yetter], Nate [Hill], Allen Fellows, & all are well. [Lt.] Bob Edgington was slightly injured by the falling of a limb cut off by a cannon ball on the evening of the 25th, but he is up all right again. I have never felt in better spirits. I can trust all consequences to God, & I feel that I have tried to discharge my whole duty. By this time you have full particulars of our battles. We feel very sanguine of success. We have from 40 to 60,000 troops coming that have not yet got up.11
I heard from Lt. Smith & our boys left at Resaca this morning. All are doing well; they have gone to Chatanooga & Smith to Nashville, from there he will either go home or have his wife come to him.
Still trust in God; He is caring for us & will preserve us. Let us praise and magnify him & strive diligently to do our duty. The Company are doing nobly, & I believe I love them more & more each day. Give my love to Mother & Maggie & Remember me to all our friends.
The heavy rains have cooled the atmosphere, & the weather is pleasant.12 Alf [Huetson] is busy making maps; he is well. I have not seen or heard from John or Sammy in three or 4 days, but, as no batteries have been engaged, I presume they are all right. May our Heavenly Father keep and bless you, and Holy Angels guard you. Watch & pray. Let us thank God for all his mercies. Accept much love,
from your Affect. Husband,
J. F. Culver