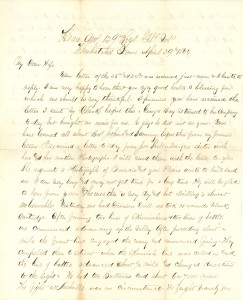 Head Qurs., 129th Regt. Ills. Vols.
Wauhatchie, Tenn., April 29th 1864
My Dear Wife
Your letter of the 23rd and 24th was received just now, & I haste to reply.1 I am very happy to hear that you enjoy good health, a blessing for which we should be very thankful. I presume you have received the letter I sent by [Amos] Clark before this. George Bay returned to his Company to-day but brought no news for me;2 he says he did not see you. You have learned all about Bros. Johnie and Sammy before this from my former letters.
I received a letter to-day from Joe Shellenbarger's sister with hers and her mother's Photographs.3 I will send them with the letter to you. She requests a Photograph of Frankie and you; please write to her & send one. I am very busy and may not get time for a long time. They will be glad to hear from you.
The weather is very dry and hot; drilling is almost unbearable.4 Yesterday we had Division Drill. We took 30 rounds blank cartridges. After forming two lines of skirmishers & two lines of battle, we commenced advancing up the valley; after proceeding about a mile, the front line engaged the enemy and commenced firing. They compelled them to retreat when the skirmish line was called in and the line of battle advanced about 1/2 mile and changed direction to the right. We had two Batteries and about 6 or 7000 men. The fight at Nashville was no circumstance.5 We fought bravely for about an hour. We drove the enemy from every point and retired without the loss of a man, covered with glory. We got into camp at dark, tired and dirty, but well satisfied with what we learned. Genls. Thomas and Hooker were present with their Staffs.
Lum Hill is no better to-day.6 All the rest of us are well. [James H.] Gaff came up to the office much excited this morning to get my opinion on a matter of discussion in Co. "G", as to whether the babies born of Soldiers' wives while they were on a visit to Dixie would necessarily [be] "Butternuts."7 I referred the matter to Geo. Bay, but he said that his own Specimen was so small when he left that he could not determine. What is your opinion?
I must hasten to close. We go on drill in a few moments, and I am interrupted so frequently that I cannot write connectedly. I am so busy on reports that I cannot promise to write regularly for a few days. Give my love to all. May Our Father in Heaven bless and keep you. I will try and write soon. May you ever be happy.
Your Affect. Husband
J. F. Culver