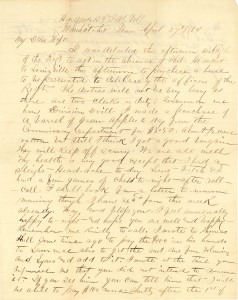 Hd. Qurs., 129th Ills, Vols.
Wauhatchie, Tenn., April 27th 1864
My Dear Wife
I was detailed this afternoon as Adjt. of the Regt. to act in the absence of Phil [Plattenburg]. He went to Louisville this afternoon to purchase a horse to be presented to Col. Case by the officers of the Regt.1 The duties will not be very heavy as there are two clerks on duty. To-morrow we have Division Drill.
I made a purchase of a barrel of green apples to-day from the Commissary Department for $3.50; about 1/2 were rotten, but still I think I got a good bargain. They will keep off scurvy.
We are all well. My health is very good except that I had a slight Head-ache to-day. Lieut. [Benjamin F.] Fitch & I had a few games of chess to-night after roll-call. I shall look for a letter to-morrow morning, though I have recd. four this week already.
May God bless you. I feel unusually happy to-night and hope you are well and happy. Remember me kindly to all.
I wrote to Thomas Hill some time ago to pay the $ 100 in his hand to Lawrence, also to get the amt. due from Fleming and Lyons, and add to it. I wrote at the time you informed me that you did not intend to draw it. If you see him [Hill], you can tell him that I will be able to pay $ 100 more shortly after the 1st of May. It was all right for you to use it. I wished it so at first & did not think at the time that you would have sufficient without it. I will answer Thomas Hill's letter soon. May Holy Angels guard thee this night.
Your Affect. Husband
J. F. Culver
The money collected would also be used by Adjutant Plattenburg to purchase a saddle and bridle for the gift horse. Grunert, History of the 129th Illinois, p. 56. [↩]