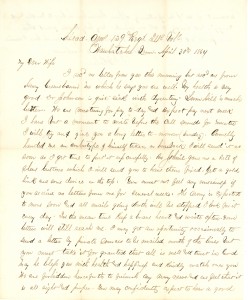 Head Qurs., 129th Regt. Ills. Vols.
Wauhatchie, Tenn., April 30th 1864
My Dear Wife
I recd. no letter from you this morning, but recd. one from Henry Greenebaum in which he says you are well. My health is very good. Dr. [Darius] Johnson is quite sick with dysentery. Lum Hill is much better. We are mustering for pay to-day and expect pay next week.
I have but a moment to write before the call sounds for muster. I will try and give you a long letter to-morrow (Sunday). Connelly handed me an ambrotype of himself taken on horseback;1 I will send it as soon as I get time to put it up carefully. Bro. Johnie gave me a set of sleeve buttons which I will send you to have them fixed; get a gold link and some device on the top.
You must not feel any uneasiness if you receive no letters from me for several weeks. The Army is expected to move soon, and all mails going North will be stopped.2 I look for it every day. In the meantime, keep a brave heart and write often. Your letters will still reach me. I may get an opportunity occasionally to send a letter by private sources to be mailed north of the lines, but you must take it for granted that all is well and trust in God. May he bless you with health and happiness and kindly watch over you.
We are forbidden henceforth to furnish any army news, and we feel that it is all right and proper. You may confidently expect to hear a good account of us if an opportunity offers. Remember [me] in love to Mother [Murphy] and Maggie and kindly to all our friends. May holy Angels guard thee and peace and contentment dwell with thee. With much love, I remain,
Your Affectionate Husband
J. F. Culver
Joseph B. Connelly, a 30-year-old farmer, was mustered into service on Sept. 8, 1862, as a private in Company A, 129th Illinois. He was detailed to headquarters, 1st Brigade, Third Division, XX Army Corps, in April 1864, and mustered out near Washington, D. C, June 8, 1865. Compiled Service Records of Union Soldiers, NA. [↩]
General Sherman on April 26 had alerted General Thomas to have his Army of the Cumberland ready to move out from its camps on May 2, 1864. When Sherman's "army group" advanced against Johnston's Army of Tennessee, Thomas' Army of the Cumberland would constitute the center; Maj. Gen. John M. Schofield's Army of the Ohio the left wing; and Maj. Gen. James B. McPherson's Army of the Tennessee the right wing. O.R., Ser. I, Vol. XXXII, pt. III, pp. 496, 498-99. [↩]