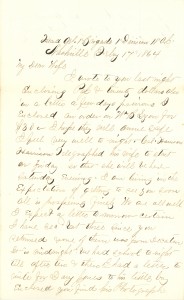 Head Qrs. 1st Brigade, 1st Division, 11th A.C.
Nashville Febry. 17th 1864
My Dear Wife
I wrote to you last night, enclosing Pass & twenty dollars, also in a letter a few days previous I enclosed an order on Wm. B. Lyon for $30. I hope they will arrive safe.
I feel very well to-night. Col. Harrison telegraphed his wife to start on Friday, so that she will be here Saturday evening [the 20th].
I am living in the expectation of getting to see you soon. All is prospering finely. We are all well.
I expect a letter to-morrow certain. I have recd. but three since you returned, & one of them was from Decatur. It is midnight. We had [Brigade] school to-night till after ten, & then I had a letter to write for Davy Jones to his little boy.1 Enclosed you will find his Photograph. I have not been in camp since day before yesterday. Good night. May God bless you. Write often to
Your Affect. Husband
J. F. Culver
David Jones, a 37-year-old miner, was mustered into service on Sept. 8, 1862, as a private in Company A, 129th Illinois. Private Jones died at Chesterfield Courthouse, S.C., on March 3, 1865, of a congestive chill. Compiled Service Records of Union Soldiers, NA. [↩]