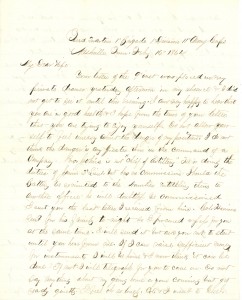 Head Quarters, 1st Brigade, 1st Division, 11th Army Corps
Nashville, Tenn., Febry. 16th 1864
My Dear Wife
Your letter of the 9th inst. was placed in my private drawer yesterday afternoon in my absence,1 & I did not get to see it until this evening. I am very happy to hear that you are in good health, & I hope from the tenor of your letter that you are trying to enjoy yourself. Do not allow yourself to feel uneasy about the danger of my position. I do not think the danger is any greater than in the command of a Company.
Bro. Johnie [Murphy] is not "chief of artillery." He is doing the duties of Junior 2nd Lieut, but has no commission. Should the Battery be recruited to the number entitling them to another officer, he will doubtless be commissioned.2 I sent you the last letter I received from him.
Col. Harrison sent for his family to-night, so I procured a pass for you at the same time. I will send it, but ask you not to start until you hear from me. If I can raise sufficient money for instruments, I will be home, & I now think it can be done. If not, I will telegraph for you to come on. Do not say anything about my going home or your coming but get ready quietly. I feel, oh, so lonely.
Col. [Harrison] & I went to Genl. Rousseau's to-night to get his opinion, & he said we should send for you as we will remain here for weeks yet.3 Yet all things in Army life are so uncertain that there is still a possibility of our hopes being disappointed. I feel happy in the thought of having you with me once more. If we were on the march or at the front, I could perhaps in the excitement of business overcome my feelings; but if we are compelled to lie here for weeks, it would be insufferable without you.
I sent you an order on Wm. B. Lyons a few days ago for $30, which, with what you may gather there, will bring you safely through. If I get home, I will bring you with me. What things you need, get. If you have not money enough, borrow some of Bro. Remick. I have about $100 on hand, & I will return it to him by Express. I do not like to send money in a letter.
You will conclude from the tenor of my letter that I make no allowance for your not coming. I have tried hard to give up the idea but have failed, so I have given myself up to anticipated pleasure of your Society.
I have recd. no letters since I last wrote. I sent to Sarah Williams [at New Hartford] for another dozen of your & Frankie's pictures to be sent to you at Pontiac. Mother's was spoiled, & some of the rest of the family did not receive theirs.
Your last letter contains much news, but I do not feel like writing about them. I do not know any very late news here. I saw Capt. Hoskins this morning. He is much better, & I think will be home on leave of absence in a few weeks. I have not seen either Chris [Yetter] or Nate [Hill] since I opened your letter, but I will convey your message to them to-morrow.
I will close. Let us pray for our success. Give my love to Mother and all the family, & Remember me kindly to all our friends. May God bless & keep you. I will not forget to pray. May your prayers in my behalf be answered.
Your Affectionate Husband
J. F. Culver
P.S. I have enclosed $20 for fear you would be short of funds.
Mary Culver's letter of February 9 is missing from the Culver Collection. [↩]
Sergt. John Murphy was not promoted to 2d lieutenant until August 8, 1864, although he had acted in that capacity for almost one year. Adjutant General's Report, State of Illinois, Vol. XIII, p. 653. [↩]
Maj. Gen. Lovell H. Rousseau commanded the District of Nashville. His protest that the dispatch of Harrison's brigade to the front would gravely weaken the force charged with defense of the city had led to cancellation of the orders to march. O. R., Ser. I, Vol. XXXII, pt. II, p. 378. [↩]