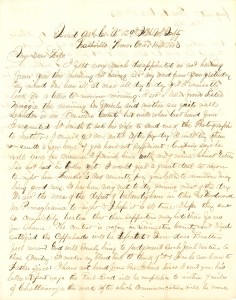 Head Qrs. Co. "A" 129th Ills. Vol. Infty.
Nashville, Tenn., Octr. 14th 1863
My Dear Wife
I felt very much disappointed in not hearing from you this morning, not having reed, any word from you yesterday. My mind has been ill at ease all day to-day, yet I earnestly look for a letter to-morrow morning.
I reed, a letter from Sister Maggie [Utley] this morning; her family and mother [Murphy] are quite well. Leander is in Bureau County but well when last heard from.
I requested Lt. Smith to ask his wife to send one of the Photographs to Mother. I cannot get more until after pay-day. I will try then & send a few home if you have not sufficient. [Lt. Col.] Cropsey says he will give his whenever I furnish him with one of mine. Christ Yetter has not had his taken yet.
I would give a great deal to know to-night how Frankie is and earnestly pray your letter to-morrow may bring good news.
It has been very wet to-day, raining most of the day. We recd. the news of the defeat of Valandigham in Ohio and Woodward in Pennsylvania to-night, & I hope it is all true.1 I hope they are so completely beaten that their supporters may hide their faces for shame. The contest is raging in Livingston County, but I feel satisfied the Copperheads will be defeated.
How does Bratton feel now?2 God will surely bring to judgment such foul traitors to their Country. It makes my blood boil to think of it: Has he ever been to Father since?
I have not heard from Bro. Johnie since I sent you his letter. Report says the Rail-Road will be completed to within 9 miles of Chattanooga this week, after which communication will be more frequent.3
Clement L. Vallandigham was a Democratic congressman from Ohio who opposed the war. His strong and able opposition to all measures for national defense proposed in the House directed upon him the intense hatred of the Lincoln administration. After his defeat for reelection to Congress in 1862, he was regarded as leader of the Peace Democrats or "Copperheads" in Ohio. For defiance of General Burnside's GO No. 38, he was arrested in Dayton, Ohio, and tried in Cincinnati for treason. He was convicted and banished to the Confederacy. Running the blockade, he made his way to Canada, and from there ran for governor of Ohio. He was defeated in the October 13, 1863, general election by John Brough. Judge George W. Woodward was the Democratic candidate for governor in Pennsylvania. On October 13, the Pennsylvania voters reelected Republican Andrew G. Curtin governor by a majority of more than 60,000. [↩]
John B. Bratton was editor of a Democratic newspaper critical of the administration's conduct of the war. [↩]
Reports reaching the camp of the 129th Illinois that the railroad would be operating to within nine miles of Chattanooga by October 21 were overly optimistic. By that date the railroad was only as far as Bridgeport, 23 miles by rail from Chattanooga. O. R., Ser. I, Vol. XXXI, pt. I, pp. 693-694.
[↩]