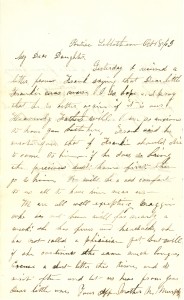 Pontiac Sabbath eve Oct 18 /63
My Dear Daughter,
Yesterday I received a letter from Frank saying that Dear little Frankie was worse. I so hope and pray that he is better again if it is our Heavenly Fathers will. I am so anxious to have you both here. Frank said he wrote you that if Frankie should die to come to him, if he does, do bring the precious dust home first, then go to him. It will be a sad comfort to us all to have him near us.
We are all well excepting Maggie who has not been will for nearly a week: she has fever and headacke, she has not called a phisician yet, but will if she continues the same much longer, Excuse a short letter this time, and do write often and let us hear from your Dear little one,
Your Aff
Mother N. Murphy
P.S. I also had a letter from Johney yesterday he was quite well. I have mailed you a Sentinal containing a letter from him. Maggie joins me in much love to you, and kiss Dear Frankie for us
N. M.
Mrs. Smith sister Manerva (I believe) is married to "Tom Dodwell"