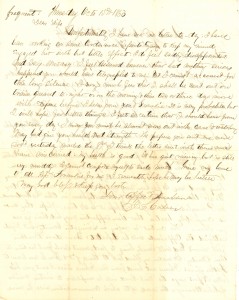 Thursday, Octr. 15th 1863
Dear Wife
Unfortunately I have recd. no letter to-day. I have been working on some Ordnance reports, trying to keep my mind engaged but with little effect. I do feel sadly disappointed and very uneasy. I feel assured, however, that had anything serious happened you would have telegraphed to me, yet I cannot account for this long silence.
I very much fear that I shall be sent out on train guard to-night or in the morning, & thus two or three days more will elapse before I hear from you & Frankie. It is very probable, but I will hope for better things. I felt so certain that I should hear from you every day. I know you must be almost worn out with care & watching [over Frankie]. May God give you health and strength.
The papers you sent me were recd. yesterday, mailed the 8th. I think the letter sent with them must have miscarried. My health is good. It has quit raining but is still very muddy. I cannot compose myself to write much. Give my love to all. Kiss Frankie for me. I earnestly hope he may be better.
May God bless & Keep you both.
Your affect. Husband
J. F. Culver