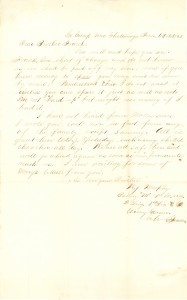 In Camp near Chatanooga Tenn. 6 Oct. 1863
Dear Brother Frank:
I'm well and hope you are. Frank, I'm short of change and do not know as we shall be paid off very soon; now if you have money to spare you may send me some by mail. Understand that I do not want it unless you can spare it just as well as not. I'm not "hard up" but might use money if I had it.
I have not heard from Mollie since I wrote you last, nor in fact from any of the family except Sammy. All is quiet here today. Yesterday each army shelled the other all day. We are all safe here and will go ahead again as soon as reinforcements reach us. I am waiting for some of Mary's letters from you.
As ever your Brother
W. J. Murphy
Battery "M" 1st Ill. Arty.
2 Brig. 1st Div. R.C.
Army Com.
Ch Tenn.
[From Uncle John to Father.]