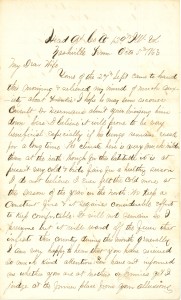 Head Qrs. Co. "A" 129th Ills. Vol.
Nashville, Tenn., Octr. 5th 1863
My Dear Wife
Yours of the 27th Sept. came to hand this morning & relieved my mind of much anxiety about Frankie.1 I hope he may soon recover. Consult Dr. Heermans about your bringing him down here. I believe it will prove to be very beneficial especially if his lungs remain weak for a long time. The climate here is very much milder than at the North; though for the latitude it is at present very cold & bids fair for a healthy season.
I do not believe I ever felt the cold more at this season of the year in the North. We keep a constant fire, & it requires considerable effort to keep comfortable. It will not remain so, I presume, but it will ward off the fever that infests this country during this month generally.
I am very happy to hear that you have received so much kind attention. You have not informed me whether you are at Mother's or Jennie's, yet I judge at the former place from your allusions to the clock.
I have been off duty to-day. The first Sunday I have had entirely to myself since we left Richland Station. Our duties have not been so heavy for the past week. After Inspection this morning, I started down street to look up a Sabbath School & found one in a Cumberland Presbyterian Church.2 I am not able to describe my feelings as I entered it, the first since I left home. The sight of the children recalled the most vivid recollections of the happy hours I spent in them at home. I looked eagerly around the room, & my heart yearned for some token of recognition, either from officers, teachers, or children, but found none. The hymn books were distributed to the school all around me. The Superintendent & teachers passed & repassed me, but not even a bow or smile. I scanned carefully the face of every child in the room but could not elicit a smile from a single one.
You cannot imagine my feelings when the truth flashed upon my mind that I was not wanted there & was an intruder. The same expression of scorn I have before witnessed was again expressed here, & I [my] heart was filled with pity for the miserable principles imbibed by the children from their teachers and parents.3 I fear it will be many years before a Northern man will even be tolerated among them, &, unless the children learn to forget their present teachings, God alone knows the misery that awaits them.
Oh, how I longed for a short time in some Sabbath School at home that I might forget the grief & sorrow that filled my heart. We have preaching occasionally in Camp but have not had a prayer meeting for long months. I do not pretend to justify myself for not being more active in the performance of religious duties; but I long for you to come that we may commune together with God. That is a cheering thought embodied in the words you have quoted, "Though sundered far by Faith we meet; Around one common mercy-seat." We will sing it when you come.
Mrs. Fitch came last night & intends to spend the winter if we remain here.4 I entertain no fear of a defeat at Chattanooga; some 30,000 reinforcements have arrived.5
I presume ere this you have recd. Bro. Johnie's letter. He drew a pair of Artillery boots for me, but they are at Chattanooga & I can see no way of getting them. I also sent to Bond [in Pontiac] for a pair over two months ago, but they have not come yet.
Which of the Miss Porters did Will Mullin marry? Is Jos. Mullin married yet? We were Chums together at College for over a year. I believe I am not acquainted with the Miss Parsons that Charlie Mullin married, unless it be a daughter of the old man who formerly kept the "Mansion House."6 I wish Sister Jennie may be fully as successful as before. Remember me kindly to her & Harry.
I have sat many an hour with the little clock before me, trying to master some knotty problem in Trigonomotry or in the translation of Greek or Latin.7 I love those relics of earlier life, & often wished when at home I had more of them around me. If you inquire of Mother, you can learn perhaps what has become of my old manuscripts. I left them in an old wooden chest in my room. You might find matters of interest perhaps among them; & also among my first Compositions. I wrote a long story once for print & put it in a secret drawer of the old chest under the till. I do not know what ever became of it; I often wished I had it. It was in part an autobiography of myself & contains many things I should like to read now.
Sergeant Howard of Co. "H" died on Friday night.8 I did not learn his disease.
You will find enclosed 4 Photographs to put in your Album. I shall go on Picket duty in the morning. Unless the weather changes, it will be quite a cold job.
There is no prospect of our moving to the front or leaving this place. We are fixing up in anticipation of a winter's stay.
I wish you would write to Mother [Murphy] to send me the sealed package in the little drawer of which I wrote in a former letter.9 I do not know where to direct her to find the key, or I would write to her.
Will you come directly here or by the way of Pontiac?10 If you come by Pontiac, I have some things I wish you to do. I have thought you would be compelled to go there perhaps for your winter clothing. Let me know the amount of money Remick sends you upon my order. It will assist me to determine possibly how affairs stand there.
My health is very good. I hope Frankie will very soon be able to be around. May God bless you both abundantly.
Did you get the Album & pictures? Christ Yetter has promised me one soon, also Nathan Hill.11
Give my love to all the family, & Remember me kindly to all our friends. Hoping very soon to hear that you will be abie to come, I remain as ever,
Your Affect. Husband
J. F. Culver