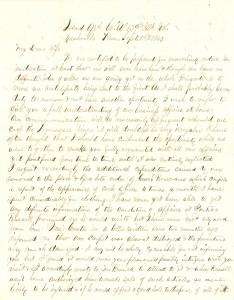 Head Qrs. Co. "A" 129th Ills. Vol.
Nashville, Tenn., Sept. 19th 1863
My Dear Wife
We are notified to be prepared for marching orders, an indication at least that we will soon leave here, & though we have no definite idea of where we are going, yet, as the whole Brigade is to move, we anticipate being sent to the front.1 As I shall probably be on duty to-morrow & not have another opportunity, I wish to-night to give you a full understanding of our business affairs at home. Our communication will be necessarily less frequent & should we cross the Tennessee River, it will doubtless be very irregular. I have often thought that I should have embraced the opportunity while we were to-gether to make you fully acquainted with all our affairs, yet [I] postponed [it] from time to time until it was entirely neglected.
I regret exceedingly the additional expenditure caused by our removal to this place, & by a late order of Genrl. Rosecrans which compels "a report of the appearance of each officer 4 times a month." I have spent considerable for clothing.
I have never yet been able to get any definite information of the condition of affairs at Pontiac. [William] Russell promised me he would write, but I have never recd. any word from him. Mrs. Custer, in a letter written some two months ago, informed me that our carpet was almost destroyed & the furniture very much damaged. I may not be wholly excusable for not informing you, but I feared it would mar your pleasure & possibly interfere with your visit. I accordingly wrote to Mr. Remick to attend to it, &, when Russell went home, authorized him to make sale of such articles as were likely to be injured, & if he could effect a good sale to dispose of all of it.
I am wholly unable to determine what amount of money is in Remick's hands. I had over $40 in Company Records sent to McCleary for sale & $100 sent to him in money. Out of that you have drawn but $25. I ford. by express to-day $25, & ordered him [Remick] to pay $50 to the church, which they tell me will cancel the last of my notes there; & also pay Maples $11 [to] Bond for a pair of boots I ordered; also Fisher amt. due him, which does not exceed $10. So that there should be a balance in his [Remick's] hands of $30, aside from the Records and whatever has been realized from rent or the sale of furniture.
My liabilities on the house yet is $450 due; $150 which will be due next month & $300 int. due next March. I could, if nothing happens, meet all the liabilities on it, if I was sure Bro. Thomas [Murphy] would not call or want the amount due him next spring which will be $600. In addition to our home, I have paid $50 on those 2 lots in Mott & Collins' addition.
My matters have become quite seriously damaged since I left. I had sufficient collections well secured, placed in Fleming & Collins' hands, to have met all my obligations as they became due had I been there to attend to them. I can gather no information from them [Fleming & Collins] & am left to infer that nothing has been done & consequently all has been lost. The interest I had in Tax lands, which promised a good harvest, has all been forfeited in my absence & lost.
We have nothing left then but our share in our home & those lots [in Mott & Collins' Addition], & yet I could cheerfully resign all were there any prospects of affairs changing for the better. In addition to the other settlements, I placed in Collins' hands vouchers to complete the payment of my note to McDonald for Spurlock.2 The man by whom the vouchers were payable has left the country, so that there remains $40 & interest to be paid there, which with the amt. lost by Beattie makes the whole of my indebtedness save $25 here [Nashville]. I am very bare, however, & shall probably have to borrow some before next pay day, not exceeding $25, however.
Will you pardon me, my dear Wife, for not informing you more fully on these matters before this? When I left home, my affairs were in a very prosperous condition, & had all been quiet & prosperity continued, all my obligations would have been cancelled before this. Out of the justices's office I have never heard of any money being paid over, except the little you recd. I do not wish to be unkind, but I do feel that Utley has not done the part of a friend, much less a Brother.
You will perceive that my letter was commenced on the evening of the 19th & this is now the 22nd. Since that time I have been two days & nights on [picket] duty. Great changes have taken place. I am not sure that there is cause for dispondency, but things look somewhat gloomy. The news from our Army informs us of a severe battle & heavy losses,3 & the recognition of the Confederacy by the French.4 I apprehend no serious results finally, but an indefinite prolongation of the war. If the North remains united, we are still safe.
It is with all these things in view that I have written at such length, so that if our communication should be cut off, you might be able possibly to arrange affairs in my absence & in that worse contingency, my death. Do not think I feel any despondency, but I think it wise to provide for any contingency that could possibly happen.
I have a request to make. You recollect I placed in one of the little drawers a sealed package [my will] with the request that it should not be opened during my life time. I wish the document destroyed, but it cannot be done legally except by myself & that in the presence of witnesses. Try & think of it when you go home & send it to me. Should any thing happen to prevent its reaching me; John Wolgamott is witness to it, & this letter shown to him shall be my warrant to him for its destruction. Yet should anything still happen to make all doubly sure, I will make another will revoking all former ones, & retain it until that one is destroyed & then destroy it.
And now, my dear Wife, though misfortune & heavy loss has been the result of my leaving home, yet our country was in danger & is not yet safe. I entered conscientiously upon what I felt to be the discharge of duty, &, if you can yield so great a sacrifice, I shall be perfectly satisfied if it be God's will to commence the world again. It may not have been most wise to base so much on so Sandy a basis, yet I am confident that with ordinary diligence nearly all my liabilities would to-day have been cancelled. Let us bid farewell to business & talk a little of ourselves.
I recd. your letter of the 13th inst.,5 day before yesterday, while out on [picket] duty, & I am happy to hear that you are so well. You ask me to guess what you gave Bro. Harry [Cheston] for acting as your Post Boy. I should guess a "Kiss." Am I right?
It is a year ago to-day that we left Pontiac. Yesterday was Frankie's birthday. I suppose it was celebrated with due solemnity. I hope when his next arrives, I may have the pleasure of joining in the celebration when you may realize your anticipated joys in the knowledge that we are all at home once more to remain. I am happy to hear that Jennie and Harry [Cheston] are so happy. If it be God's will, we will one day be very happy. I doubt not in the Providence of God, all will be for the best.
There is no Ohio Regt. here. I may possibly meet your Cousin, &, if so, I will try & make his acquaintance.
I set for some Photographs on Saturday but on examining them to-day did not like them. I will sit again to-morrow. The number is 448, &, if you should wish at anytime within a year to get any by sending for the number & this date, you can have them copied. The negative is kept on hand for a year. I will send you one as soon as I can get it.
Enclosed find $10 to be preserved for Frankie as birthday present. If Gold comes down, buy gold as it will be surer. If I get home, I will invest it for him. Kiss him for me. I have been until a late hour writing to-night, being interrupted very often.
Christ Yetter took very sick while on [picket] duty last night [the 21st]. I sent him to Camp, but he is much better this morning & was walking around. The health of the Company is generally good. Quite a number of the men have been drinking too much to-day; they seem to fear that their money will not be spent soon enough. It generally happens after pay day, but is much worse this time, being in the city.6
I came very near losing the package of money I sent to Remick to-day. I put it up, but could not find the Col. to get a pass to go to the express office, & lay down on the bed to wait & fell asleep. Little Mary Nelson came into my tent, as she frequently does, & attracted by the red seals upon it, I presume, took it out of my hands & carried it out & in playing in an adjoining yard with another little girl lost it. [Adjutant] Plattenburg, happening to pass, found it, & returned it to me, after I had concluded it was gone. Had many a one found it, I should doubtless been the loser of $25. She knew she had taken it, but could not tell where she had lost it.
I will try and write to Harry [Cheston], but I am so busy that I find but little time to devote to correspondence. I owe a large number of letters.
We are on duty much more than half the time & but seldom in camp; when here drill consumes nearly all our time or leaves us so tired that it requires considerable effort. I went on duty Sunday morning [the 20th] & was relieved about 9 A.M. to-day, besides [having] 3 hours' drill this afternoon. I had a little time to go to the express office & that was all.
The papers will give you an account of the Battle [of Chickamauga]. We have but few particulars yet. Our loss in killed & wounded is at least 10,000, & I shall feel glad if in the summing up it does not reach 15,000 or over.7 The Slaughter is terrible. We expect almost every hour to be ordered forward. One division of our Corps [Grangers's ] was in the battle, either the 1st or 2nd, we have not yet learned which.8 Bro. Johnie is in the 2nd Division & was at last accounts at Chattanooga, & probably not in the battle. I will write to you as soon as I learn. His is Morgan's division of Granger's Corps.9
Send me a paper with the account of the French recognition. We are waiting anxiously to learn what England & Russia are doing or intend to do.10 Will the North stand a draft of 600,000 more?11 If so, we are yet safe. I think this interference will have a tendency to arouse & unite them. I hope so at least.
I am sorry to learn of Father's condition.12 I dare not hope or do I wish for leave of Absence while affairs are in so critical a condition. Let us trust all to God. In his love & protecting care our best interests will be preserved. Do not grieve over past misfortunes but look hopefully to the future. Whatever God directs is for the best.
I have received no letters for some time from any source. My friends seem to be waiting for me to write. Neither Mother [Culver] or Hannah have written since you arrived there. Give my love to all. Believing that God will bless & preserve us, yet committing all to his hands,
I remain, as ever,
Your Affect. Husband
J. F. Culver