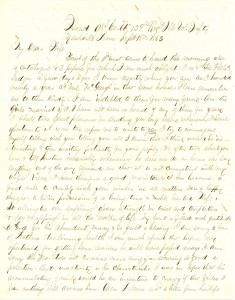 Head Qrs. "A" 129th Regt. Ills. Vol. Infty.
Nashville, Tenn., Sept. 18th 1863
My Dear Wife
Yours of the 11th inst. came to hand this morning, also a catalogue & 3 [news]papers for which I am much obliged.1 I recd. the Philad. Ledger a few days ago.
I know exactly where you are, as I boarded nearly a year at Mrs. McGary's in that same house.2 Please remember me to them kindly; I am indebted to them for many favors. Are the girls married yet? I have not seen or heard of any of them for years.
I shall take great pleasure in sending you long letters whenever I have opportunity; it is no tax upon me to write to YOU.3 I try to imagine myself talking with you, telling you all I know that I think would be interesting, and then waiting patiently for your reply. We often talk about you here & Alf Huetson invariably, whenever he sees me do or hears me say anything out of the way, reminds me that it is not consistent with my wife's views. I have, therefore, a good monitor, & it has become a fixed rule to comply with your wishes in all matters. It is a happy thought to be in possession of a loving, true & noble hearted Wife. It alleviates our sufferings, gives strength in trial and temptation, & joy & happiness in all the walks of life. My heart is filled with gratitude to God for his abundant mercy & so great a blessing.
I am sorry to hear of Father's declining health. I am much afraid that before my opportunity for getting home arrives, he will have passed away. I am sorry Bro. Wes. does not exercise more energy in securing so good a position,4 but inactivity is his characteristic. I was in hopes that his accumulating a family would be an incentive to energy; if that fails, I fear nothing will arouse him. Allen Fellows recd a letter from his Wife this morning. She is quite well.
I am well acquainted with Mary Moore & Annie Brady, but they were only little girls when I was home & went to Sabbath School.5 Annie Brady was a very bright scholar & won many honors in the public schools in Carlisle.
How do you like Mrs. Proff. Johnson?6 You will find her very intelligent. I hope your acquaintance with the family may prove pleasant. I am not acquainted with Proff. Boswell's family.7 Annie (Van Horn) Davis has been quite successful, or rather prolific.8 Give Lizzie Zug a kiss for me, she is an especial favorite of mine.
I believe I could guess in three times who made the remark to her about Frankie. It was either Mary Rheem, Em. Ensiminger, or Ell., the last named lives on the corner of the Alley west of Sister Jennie, at the lumber yard.9 I have forgotten her last name though it is very familiar. I recollect it now, it is Ell. Armstrong. The language is very like either of them. It is not very singular that either of them should recognize him [Frankie].
[Lt.] Smith has not heard from his wife since his return [from furlough] & feels quite uneasy. The weather is so cool this morning that my fingers are quite numb. Every body is wearing overcoats. I presume it will last until after the 21st, [equinox]: If it should continue long, we will be compelled to get a stove. The changes in the weather are full as severe and sudden as in Illinois.
Frank Long has just been here requesting a recommendation for a position in a negro Regiment, & it has broken into my thoughts considerably.10 I must finish my letter now, or it will miss to-morrow's mail.
I had thought of a number of things I wished to write, but fear they have gone out of my mind entirely. I have received no letters since I last wrote to you from any source, but have been expecting to hear from Pontiac daily. Henry Greenebaum [a friend and Pontiac dry goods merchant] sent me another package of Collars, so that I am well provided. I am much in need of my boots & hope they will not forget to send them by McIntyre.11
I am sorry to say that I have not answered either Maggie [Utley's] or Sarah Williams' letters yet, though I am strongly impressed that I wrote to Maggie last. If there was no drill this afternoon, I would write to both of them; as it is, I fear I shall not be able.
The health of the men is generally good. I sent you a Nashville paper yesterday containing an undeserved compliment. The troops were from the different companies & not all of Co. "A", & we had no idea of eliciting any encomium.12 I shall in all probability be on duty on Sunday again, it seems to be my misfortune.
The boys are crying at some Provost Guards passing, "White Gloves." They have a holy horror of all style. I fear it would require a great effort for us to comply with the regulations of the "Army of the Potomac." The men complain now of being too much of a band-box Regt, yet our style falls far short of the requirements of some portions of the Army.13
I have not heard from Bro. Johnie yet. I presume he is quite busy. There has been some hard fighting at the front for the last four days, but we have not learned the result though the papers report Rosecrans driven back this morning.14 Yet it is not generally believed. We shall hear definitely in a few days, I presume.
Give my love to all the family. I should like very much to hear from Mother & the rest of my Bros. & Sisters, but they apparently expect you to do their writing. Kiss Frankie for me. I am happy to hear that you both enjoy such good health. I shall look anxiously for the music, we need something of the kind very much.
We have not yet been paid off but are promised to-morrow. I do not know why it is delayed. Write as often, your letters are not less interesting to me than mine are to you. Though I should be far happier to communicate more directly with you, yet I rejoice at this opportunity still left for communication & earnestly hope though distant to hear very often.
Remember me kindly to all our friends in Carlisle. Tell me all you hear & see, for rest assured that everything and almost every person are familiar to memory.
May Our Father in Heaven bless you & preserve you in health and happiness. I remain, Dear Mary,
Your Affect. Husband
J. F. Culver