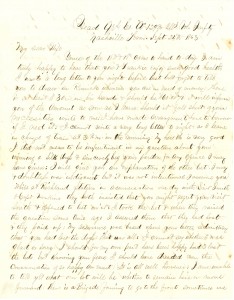 Head Qrs. Co. "A" 129th Ills. Vol. Infty.
Nashville, Tenn., Sept. 24th 1863
My Dear Wife
Yours of the 18th & 19th came to hand to-day.1 I am truly happy to hear that you & Frankie enjoy such good health. I wrote a long letter to you night before last, but forgot to tell you to draw on Remick whenever you are in need of money.2 There is at least $30 in his hands & should be $60 or $70. I will inform you of the Amount as soon as I learn. Should it fall short of your necessities, write to me; I have made arrangements here to borrow if I need it.
I cannot write a very long letter to-night, as I leave in charge of train at 3 P.M. in the morning [sic]. My health is very good.
I did not mean to be impertinent in my question about your winning a silk dress & sincerely beg your pardon for any offence I may have given.3 I will give you an explanation of the other bet. I may & doubtless was indiscreet, but it was not intentional, I assure you. While at Richland Station [in the spring] in a conversation one day with Lieut. Smith & Capt. Hoskins, they both insisted that you might regret your visit South, & offered to bet on it.4 I took the bet, & when they raised the question some time ago, I assured them that they had lost & they paid up. My assurance was based upon your letter admitting that you had lost the dress. That was all. I cannot say whether I was glad or sorry. I should, for my own part, have been happy had I lost the bets; but, knowing your fears, I should have dreaded even the consummation of so happy an event. It is all well, however.
I am unable to tell yet what our lot will be, whether to remain here or move forward. There is a Brigade forming to go to the front, sometimes we are included & then again left out.5 We shall know probably on my return.
My Photographs will be done when I return, & I will forward them. I should have been very happy to have made the visit to the old homestead with you. Those old places are very dear to memory. I could tell you of many things were I there that are indelibly impressed upon my memory, besides the association would assist me to recall much that I have doubtless forgotten. The meadows are all drained but they must have filled up if it has overflowed. I am sorry that Gustie [Pague] has not been more fortunate; I would like to see him prospering.6
Large numbers of wounded have arrived & are still arriving on the trains from the front. We know nothing definite from the battle yet. Great secrecy is observed for some cause.7 I have not yet been able to learn whether Bro. Johnie was in the battle or not.
I am sorry that Ira & John have gone into the service. I fear the temptations will be too great for them. Why has Wes [Culver] not gone to duty? Is he not able?
I have recd. no news from Pontiac except a short letter from Utley. Maggie, Mary, the babie, & Mother [Murphy] are well. He says considerable about the pleasures of home, but he forgot that a very little effort on his part might have proved very beneficial to us. Let us not judge him harshly, however, & hope that all will yet end well.
But I must close. I hope to have some news for you on my return. If we remain here, I would be happy to have the music, & I think it safe if you will send it. Give my love to all the family. My last letter contained ten dollars, please tell me if you received it. Kiss Frankie for me. Trusting that God will bless & keep you, I remain,
Your Affect. Husband
J. F. Culver