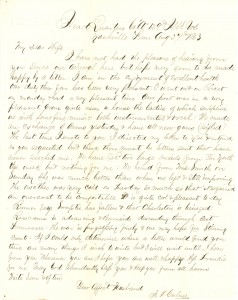 Head Quarters, Co. "A" 129th Ills. Vol.
Nashville, Tenn., Aug. 27th 1863
My Dear Wife
I have not had the pleasure of hearing from you since our arrival here, but hope very soon to be made happy by a letter. I am in the enjoyment of excellent health. Our duty thus far has been very pleasant.1 I went out on Picket on Monday [the 24th] & had a very pleasant time. Our post was in a very pleasant grove quite near a house, the ladies of which supplied us with some fine music, both instrumental & vocal.
We made an exchange of Arms yesterday & have all new guns (rifled).2
The last time I wrote to you, I directed my letter to New Hartford, as you requested, but think there must be letters sent that have never reached me. We have recd. two large mails from the North this week but nothing for me. We heard from Mrs. Smith on Sunday. She was much better than when we left & still improving.3
The weather was very cold on Tuesday, so much so that it required an overcoat to be comfortable. It is quite cool & pleasant to-day.
Rumor says Sumpter has fallen & that Charleston is besieged.4 Rosecrans is advancing & Burnside descending through East Tennessee.5 The war is progressing finely, & we may hope for stirring events.
If I could only determine where a letter would find you, there are many things I wish to write, but I will wait until I hear from you. Wherever you are, I hope you are well & happy. Kiss Frankie for me. May God abundantly bless you & keep you from all harm. Write soon & often.
Your Affect. Husband
J. F. Culver