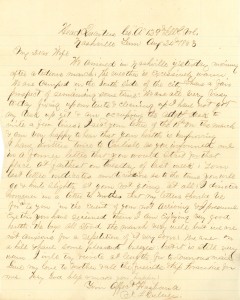 Head Quarters, Co. "A" 129th Ills. Vol.
Nashville, Term., Aug. 24th 1863
My Dear Wife
We arrived in Nashville yesterday morning [the 23d] after a tedious march.1 The weather is excessively warm. We are camped on the South side of the city & have a fair prospect of remaining some time. We are all very busy to-day fixing up our tents & cleaning up. I have not got my desk up yet & am occupying the adjt's. [adjutant's] desk to write a few lines.
I recd. your letter of the 18th on the march & am very happy to hear that your health is improving.2 I have written twice to Carlisle, as you informed me in a former letter that you would start for that place at farthest on Tuesday of last week. Your last letter indicates indecision as to the time you will go, & hints lightly at your not going at all. I directed, however, in a letter to Mother that my letters should be ford. to you in the event of your not arriving,3 & I presume ere this you have received them.
I am enjoying very good health. The boys all stood the march very well, but we are not anxious for a repetition of it very soon. We are on a hill & have some pleasant breezes, but it is still very warm. I will try & write at length for to-morrow's mail. Give my love to Mother & all the friends & kiss Frankie for me. May God bless & make you happy.
Your Affect. Husband
J. F. Culver
The 129th Illinois left Gallatin at 5 P.M., on August 21, and reached Nashville at 9 A.M., on the 23d. The distance marched was 30 miles. Regimental Papers, 129th Illinois, NA. [↩]
Mary Culver's letter of August 18, 1863, is missing from the Culver Collection. [↩]
This letter to J.F.C.'s mother is missing from the Culver Collection. [↩]