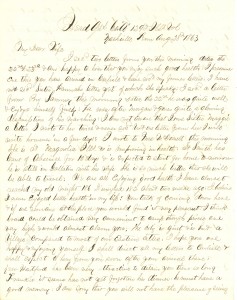 Head Qurs. Co. "A", 129th Ills. Vol.
Nashville, Tenn., Aug. 28th 1863
My Dear Wife
I recd. two letters from you this morning dated the 22nd & 23rd & am happy to hear that you enjoy such good health.1 I presume ere this you have arrived in Carlisle & have recd. my former letters. I have not recd. Sister Hannah's letter yet of which she speaks.2 I recd. a letter from Bro. Sammy this morning, dated the 22nd; he was quite well & enjoys himself finely. He was after Morgan & gives quite a glowing description of his marching.3
I am not aware that I owe Sister Maggie [Utley] a letter. I wrote to her twice & never recd. but one letter from her. I will write, however, in a few days. I wrote to Mrs. McDowell this morning. She is at Magnolia, Ills. & is improving in health.
Lt. Smith has Leave of Absence for 10 days & is expected to start for home to-morrow. He is still in Gallatin with his wife. She is so much better that she will be able to travel.
We are all enjoying good health. I have almost reached my old weight, 186; I weighed 182 about two weeks ago. I believe I never enjoyed better health in my life.
You talk of coming down here, &, if we remain at this place, you would find it very pleasant. I think board could be obtained very convenient to camp though prices are very high & would almost alarm you. The city is quiet & is but a Village compared to most of our Eastern cities.4
I hope you are happy & enjoying yourself. I shall direct all my letters to Carlisle & shall expect to hear from you soon after your arrival there. New Hartford has been very attractive to detain you there so long. Frankie, it seems, has not yet forgotten his dinner; he must have a good memory.5
I am sorry that you will not have the pleasure of seeing me in Carlisle. No leaves of Absence are granted from this Post. While we remained at Gallatin, I had good hope but here I cannot expect it. [Lt.] Smith only got 10 days, & his wife was supposed to be dying. I shall expect a letter from Sarah very soon.
I have heard of the change of tenants in our house but not one word from Fleming; I wrote to Remick to take the matter in hand & hope to hear from him soon.6 I will send for your pistol if opportunity offers but understand that no Furloughs will be granted. The papers you sent have not yet arrived. I hope you had a very pleasant ride with Cousin Thomas. I can scarcely realize that Frankie can say anything, he must almost be able to walk. I think he will find it very pleasant at Carlisle. I feel very anxious to hear how you like the place & our friends there.
Russell & Scott [McDowell] are both here yet & in good health. I have no late news from Pontiac except by Capt. Baird yesterday evening,7 & he saw no one but Chas. McGregor. Francis Van Doren had a letter from Hetty Antrim a few days ago. She was in Cincinnatti & quite well.8 Alf. Huetson will return to-day or to-morrow, when I shall have some news I presume. [Christ] Yetter has not written yet to you. He writes a great many letters mostly to Jennie [Gutherie] & Lib. Mr. Hill's family are all well. Col. Cropsey's wife is expected here to-day;9 she has been several days on the way from Louisville, not being able to get through.
I must close as I have considerable Company writing to do to-day. Huetson & Jo. Allen both being away, I shall be very busy for a few days closing up the monthly accounts.
I hope God may continue to bless us with health & keep us from all evil. May his blessings rest especially upon you & our dear Boy. Give my love to all the family. I expect you to be very happy during your stay at Father's. Remember me kindly to all the friends that may inquire of me. Let us hope that the present success of our Armies is a harbinger of Speedy Peace,10 and live happy in the prospect of soon being united at "Home again."
What has become of Mother [Murphy]? Give my love to her. I did hope she would go with you to Carlisle & feel disappointed. Will she remain in New Hartford or go home? Have you sent to Remick for money yet & how are you off? Will you need more soon? We will be paid off in a few days again. I believe I could write all day if nothing prevented. It seems I never get through talking to you. Farewell, May God bless My Dear Wife,
J. F. Culver