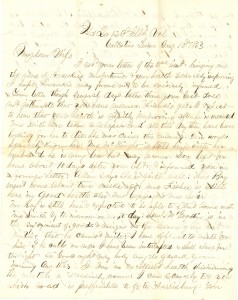 Hd. Qr. 129th Ills. Vol.
Gallatin, Tenn., Aug 10th 1863
My Dear Wife
I recd. your letter of the 2nd inst., bringing me the news of Frankie's misfortune & your health scarcely improving.1 I hope Frankie may prove not to be seriously injured. Your letter, though several days later than your last, does not intimate that you have weaned Frankie yet. I expect to hear that your health is rapidly improving after he is weaned.
Mrs. Smith has taken a relapse, and all this day they have been looking for her to die. She was easier this evening. You would scarcely know her. Mrs. McKnight is still here with her husband; he is very low but may recover. Lou [Allen] left for home about 10 days after you left. I informed you [of this] in a former letter. Allen says she is quite well. Mrs. Ray went home about two weeks ago. Mrs. Fisher is still here in good health; also Mrs. Coppage & Mrs. Soir.2 Mr. Kay is still here & expected to be able to start home with Mrs. Smith by to-morrow or next day.3 Saml. McGoodin is in the enjoyment of good [health] & assigns as the reason of his not writing that he cannot write. I have offered to write for him if he calls on me. I have been interrupted & shall close for to-night, so Good night, may holy angels guard you.
Morning Aug 11th/63: I am in excellent health this morning. The weather is excessively warm. I can scarcely tell you which [rail] road is preferable to go to Harrisburg. You can go through New York & Philadelphia. It is about as cheap as any & gives you a chance to see the cities, but is somewhat difficult for you alone. The easiest rout[e] for you is to go to Rochester & take the [rail] road to Harrisburg, direct through Elmira & Williamsport. The fare either way is about the same & will cost from 10 to 15 dollars. If you go by way of New York, you will be compelled to stay there all night, get to Philadelphia about 2 o'clock next day, leave Philad. at 11 P.M., & get to Harrisburg at 3 A.M. next day, leave Harrisburg at 8 A.M. & get to Carlisle at 10. By the other rout[e], you will have fewer changes & at smaller towns. Try & take the train from Rochester in the evening, & you will get to Harrisburg in time for the train to Carlisle next day.
I have not heard what has been done with Allbe & Soph. Gagan took his whole family [to California] with him. We have got Bell tents similar to the one the sergeants used.4 I wish you had returned the Canada Bill to me. I could have returned it & satisfied the old man; as it is, I do not know how to convince him. I sent you a letter from Bro. Johnie by last mail. He is still at Shelbyville, Tenn.
I have been act. adjutant of [for] a week. Phil (Plattenburg) is in the Hospital but will be back by to-morrow. I was interrupted last night, & now it is mail time. I will enclose a letter from Sis giving the Pontiac news. With love to all, I must haste to say, good bye. May God bless you.
Your Affect. Husband
J. F. Culver