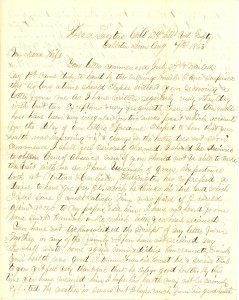 Head Quarters, Co. "A" 129th Ills. Vol. Infty.
Gallatin, Tenn., Aug. 7th 1863
My Dear Wife
Your letter commenced July 27th & mailed Aug. 1st came duly to hand by this evening's mail.1 I am surprised that so long a time should elapse without your receiving a letter from me, as I have written regularly every other day, with but two exceptions, & very frequently every day. Our mails have been very irregular for two weeks past which accounts for the delay of our letters I presume.
I hoped to hear that your health was improving, &, if a change for the better does not soon commence, I shall feel seriously alarmed. I should be desirous to obtain Leave of Absence, even if you should not be able to make the visit with me, as I have business of grave importance both at Pontiac & Carlisle.
Harrington has expressed a desire to have me pay $15 which he thinks he is due and which I feel sure I could satisfy him was paid if I could gain access to my papers & see him.2
I have not heard from home since Hannah wrote, which letter you have received. You have not acknowledged the receipt of any letter from Mother [Culver] or any of the family, & I fear have not received any. I shall write home again immediately.
How earnestly I wish your health was good. I know Frankie must be a severe trial to you, yet feel very thankful that he enjoys good health. By this time you have weaned him; I hope his health may not be seriously effected. The weather is severe, but I hope much from his good health. I think if his teeth do not trouble him, he will do very well. Mother [Murphy] understands well how to care for him, & I feel satisfied nothing will be wanting. Your necessary absence from him for a short time will also be a severe trial under the existing state of your health, but it is all for the best. I pray God to restore you speedily to the enjoyment of vigorous health.
I have not heard from the petition I sent by Doc. Heermans for Leave of Absence yet, but do not expect it will be successful. I have given up all hope for the present, as the Col. comdg. refuses to sign any more [leaves] until the other officers have had a chance.
Col. Case passed through Utica [N.Y.] yesterday if nothing happened on his way to visit his mother in Connecticut. I thought it barely possible you might be in Town, &, as the train stops there for dinner, he will look around to see you. But your letter precludes the possibility of his seeing you. Your health would prevent your being in the City.
My health is very good. I was prevented from writing last night. I was sent out on a scout shortly after dark & did not get back until 7 o'clock this morning, & was so sleepy that I could not write before mail time.
Mrs. Smith is improving slowly. She is able to sit up a couple of hours at a time. Lieut. McKnight is dangerously ill with chronic diarrhea but hopes are still entertained for his recovery. His wife is still here. Thompson Laycock is very ill with inflammation of the bowels but may recover.
We all received a severe shock from lightning day before yesterday evening. It struck the little tent beside our cook tent in which Tom sleeps & tore it all to pieces.3 We had just finished supper, & I had got into my tent some ten steps distant. [Lt.] Smith & Maples & the two negroes were still in the cook tent. They were thrown some six or eight feet from the tent but not hurt much. Nelson, his wife, & both children were knocked down. I was standing in my tent near the bed. My legs gave way, & I fell on the bed. The shock was very severe all over camp, yet no one was hurt though Lt. Smith & Maples made a very narrow escape.
The report that Mary Snyder had fallen into the hands of Harper & Berryman was untrue. She has thus far kept out of their way though they have been after her several times
Yesterday was "Thanksgiving Day." We observed it by having chicken & some few other nice things for dinner.4
I received a letter from Bro. Johnie yesterday, which I have enclosed thinking you would all like to hear from him.5 I recd. a letter from F. H. Bond this evening. He says all are well.6 I have no word from Maggie [Utley] yet. I fear she has forgotten me altogether.
We are performing about the same routine of duties. There are no bodies of troops on this side of the Cumberland River. Guerrillas are plenty, however, and give us some long rides. [The] Kings have heard from their son (Francis). He writes that he "is confined in the Ohio Penitentiary with the balance of Morgans horse-thieves."7 They are lamenting his fate very much, yet are as strong REBELS as ever. I have not seen Carrie [Rodamore] for a month or more. I believe she is in Nashville. The family are well.
Give my love to Mother & all our friends. Kiss Frankie for me. Has he learned to say MAMA yet? I long very much to see you all and I hope to hear that you are getting health. May God make you happy & bless you abundantly. Your letters portray the state of your mind much more than you imagine, & I read them closely. I shall be very happy to hear good news from you soon, and, if I do not succeed in my contemplated visit, I shall believe still that our Heavenly Father has some wise end in view. Let us praise him.
Write to me as often as the state of your health will permit.
I presume the letter written to Sarah had not been recd. You have not yet told me the value of the note on the Canada Bank I sent you. Please don't forget it as the old negro may accuse me of trying to cheat him.
Trusting that God will restore you to health and happiness, I remain, Dear Wife,
Your Affect. Husband
J. F. Culver
P.S. Preserve Bro. Johnie's letter carefully, as it is the only acknowledgement of the money paid him I have.8 Put it among my receipts in the desk when you get home.
J.F.C.