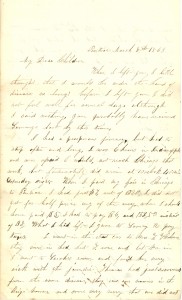 Pontiac March 8th 1863
My Dear Children
When I left you, I little thought that I would be under the hand of disease so long; before I left you I did not feel well for several days although I said nothing, you probably have received Sammys last by this time.
I had a prosperous journey, but had to stop often and long, I was 6 hours in Indianappolis and was afraid I would, not reach Chicago that week, but fortunately did arive at 10 oclock 40 min Saturday night. When I paid my fair in Chicago to Pontiac I had just $7, out of $20, I did not get for half price any of the way, when I should have paid $5, I had to pay $6, and $8,50 instead of $3, what I had left I gave to Sammy to pay taxes, I went in the street car to Mrs T. Holmes, they were in bed, but T. rose and let me in I went to Sarah's room and found her very sick with the jaundice Thomas had just recovered from the same disease, they saw our names in it Brigs house and were very sorry that we did not come directly there, I told her (M. Ann) the reason she said the children had the whooping cough, two years ago. Sarah hopes to see you when you return, she and Mary are making preparations to go to N.H. in May.
Mary when you come home be sure and start early in the week, because you may have to wait at each station a good while; if you stop in Layfayette you had better pay your fair to that place then you can come home any direction you please, but I think the best way is by Chicago. Mrs. Cotton expects to start tomorrow, I cannot send what I want to with either she or Mr. Cropsy I got a peck of russets to send you but I can only send a few with the hand kerchief and tobacco. Sammy is going to write to Frank, about renting the house, so I will say nothing about it.
Dr Capron has been here since this letter was commenced, and says that my hips are going to be as my neck was, I did not discover the swelling until today when Maggie was rubing them for me, I have not told you how I am affected when I came home I had a very severe pain in my back, then it went to my left limb, the gathering is at the lower end of my back bone on both hips.
Kiss little Frankie for and may heavens richest blessings rest on you all is my earnest prayer.
Your Aff Mother
N. Murphy