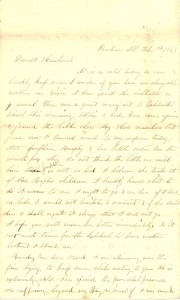 Pontiac Ill. Feb. 1st 1863
Dearest Husband
It is so cold today we can hardly keep warm I wonder if you have as changeable weather in Dixie I have spent the Sabbath as usual There were a great many out to Sabbath School this morning Abbie & Lide have come again & joined the bible class My class numbers but four now I learned much to my surprise today that Josephine Murphy & her little sister has the small pox they do not think the little one will live Josephine is not so bad I believe she took it of Mr. Maples children I hardly know what to do it seems to me I ought to go & see her if I had no babe I would not hesitate a moment & if she should die I shall regret it always that I did not go I hope you will answer her letter immediately. Is it not most time for the S. School to have another letter? I think so.
Monday Eve.
Dear Frank I am shivering over the fire trying to keep warm while writing to you It is extremely cold I'm afraid the poor rebel prisoners are suffering beyond any thing we know of I was much disappointed today when no letter came from you God grant that your health may continue to improve if I only was certain that it was so Mr Cox came to see me today about the House Insurance I am to send $1,75 to the Company tomorrow I called on Herrington this afternoon but could give him no help on that business I have looked your papers almost entirely over & can find but one letter from Heckman that does not throw much light on the subject he says we'll wait until he gets home & then settle it The rumor is afloat here today that F Streamer & others have disappeared some say deserted & joined the rebel army I hope it is not so.
Tuesday Eve
No letter today dear Frank. I was so certain I should have one If I dont hear by tomorrow I shall fear greatly that you are too sick to write Letters came last night & today for others but none for me Can it be your duty to stay my dear husband when you are sick so much If my fears are confirmed I must start for Mitchellsville I can get through I know I can and oh it makes my heart ache so to think that perhaps you are very ill & no wife near to administer to your comforts & relieve your wants
May God bless you abundantly.
Wednesday Eve Feb 4th
Dear Frank Mother has just come from meeting & tells me that Mr. Loomis leaves tonight I hasten to add a few lines to that already written & send by him no letter today Will you promise me that if you are now or ever too ill to write that you will send for me immediately Frankie is pretty well he coughs yet thought not much Mary Utley is sick we do not know what is the matter as it has been so cold we could not go up to see her Sammy had a letter from Johnnie Saturday eve but we have not heard from him since The fates seem to be against me I get letters from nobody Our folks send love In haste I must close With much love I subscribe myself your loving wife
M M Culver