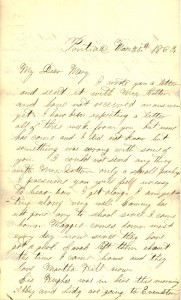 Pontiac Mar. 20th 1863.
My Dear Mary
I wrote you a letter and sent it with Mrs. Cotton and have not received an answer yet. I have been expecting a letter all of this week from you but none has come and I did not know but something was wrong with some of you. I could not send any thing with Mrs. Cotton only a small package I presume you will feel uneasy to hear how I get along, I am getting along very well. Sammy has not gone any to school since I came home. Maggie comes down most evry day now since they have got a girl. Sarah left them about the time I came home and they have Martha Hill now.
Sis Hughes was in here this morning Abbey and Lidy are going to Evanston to school. She said that Mrs. Gaff, had a letter from Mr. Gaff yesterday and he said that Mr. Culver was going to resign, is it possible that the news is not to good to be true. If you are going to stay much longer I will try and send a dress for you with Mr. Gagan. Mrs. Strevell's eyes are very sore she hurt them by working to soon, she worked Mr. Strevell a pare of slippers and it strained her eyes. Mary guess who is married. I dont believe you could so I will tell you Miss Ann Dodwell and "Jim" Shepered. (I say much joy to the couple, Sam.) Maggie is going to write to Mr. Culver in a few day's and little Mary has allmost recovered from the whooping cough. Jeroam Russell is not expected to live, his Father went down to see if he could fetch him home, [Sura?] was going to school with the Remmick girls, but as her father went after Jeroam she can not go untill she comes back. Leander has gone to Ohio on business and he intends to go and see Fam. before he comes back.
I feel much better now but I can not sit up much if any yet. I have sore on my back, and it runs most all the time. Do not be uneasy on my account for I have evry cumfort that I could think of, what a blessing it was that I left the time I did. I can sit up a little in the bed and sew some. I have pieced little Frankie a little quilt. Oh! Mary how I do want to hear from you I have an excuse for Frank, but I have not any for you he has so much to do but you might as well write as not. If Frank does not come home soon I want you to stay with him, as long as you can. Remember me to Frank and kiss Frankie for me, and I hope, I shall soon see him and may God Blessing rest upon you is my earnest prayer.
I am as ever, your aff. Mother,
Nancy Murphy
Box 105.
Pontiac
Ill