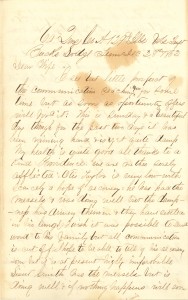 Hd. Qrs., Co. A, 129th Ills. Vols. Inft.
Bucks Lodge, Tenn., Dec. 28th 1862
Dear Wife
I see but little prospect of this communication reaching you for some time, but as soon as opportunity offers, will ford. it. This is Sunday & a beautiful day, though for the past two days it has been raining hard & is yet quite damp.
My health is quite good, all thanks to a kind Providence. We are rather sorely afflicted. Otis Taylor is very low with scarcely a hope of recovery.1 He has had the measles & was doing well, but the dampness has driven them in, & they have settled in his lungs. I wish it was possible to send word to his family, but all communication is cut off.2 I hope to be able to tell of his recovery soon, but it is at present highly improbable. Lieut. Smith has the measles but is doing well, & if nothing happens will soon recover. Earl H. Kenyon is very low with typhoid fever & congestion of the brain;3 he may recover. He was married while our Company was at Kankakee & lived in Dwight. I am informed that J. Wood is getting better; he is back at Mitchellsville.
3 o clock P.M. Kenyon is better but Taylor worse. Smith is still doing well.
The Chaplain of the 79th Ohio preached for us to-day. How often I have thought of home. Quite a large pack of letters are awaiting the mail. We have no late news concerning the amt. of damage done to the Rail Road. The last we heard was that two miles of track & two bridges were destroyed. It will take at least a week to repair. We may have telegraph communication in a few days.4
We have a very pleasant place for camp, but are almost out of provisions. We have depended on the R. Road for supplies, & I presume will have to forage soon unless the Road is repaired.
We have had no papers for ten days, consequently no news. I expect S. Bennet will get home before New Year's Day. We are still most anxious to hear from home & know to what extent the Small Pox is raging. As I intend to write each day until the mail goes out, I will close for the evening.
Your affect. Husband
J. F. Culver