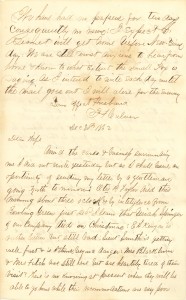 Dec. 30th 1862
Dear Wife
Amid the cares & business surrounding me, I did not write yesterday, but, as I shall have an opportunity of sending my letter by a gentleman going North to-morrow. Otis B. Taylor died this morning about three o'clock, & by intelligence from Bowling Green just recd. I learn that Uriah Springer of our Company died on Christmas.1 E. A. Kenyon is rather better but still bad. Lieut. Smith is getting well fast & is, I think, beyond danger.
Mrs. Blackburn & Mrs. Fitch are still here but are heartily tired of their visit. There is no knowing at present when they will be able to go home, while their accommodations are very poor.
Quite a number of letters have been received, but I have not been so fortunate. I hope, however, to receive one as a New Year's gift. I wrote to you & sent by Bennet. I understand he did not get from Bowling Green until this morning. My letter will not reach you in time to wish you a "Happy New Year," but I will hope that it may be so.
I almost dread to hear from Pontiac for fear some of you have been infected with the Small-Pox, yet I pray God for better things. I have never received the promised letter from Johny, but hope he is entirely well.
We have no news of Maples yet. I was hoping he would arrive before New Year's so that I might have my budget of letters. I am wholly at a loss what news to write without any letter to answer. The last is dated Dec. 8th. I shall commence to read the old ones over soon.
I shall try & write to Mr. Taylor to-night and scarcely know how to tell them of his death.2 I know they will be almost disconsolate. Otis was among our best boys, exemplary in conduct & died in a hope full of immortality beyond the grave. His was truly the Christian's death; he was much beloved by all. And now Dear Wife, I most earnestly pray that God continue to be with you, protect & preserve you from harm & disease. Give my love to all, &, if Maples has not yet started, send me letters by mail.
With much love, I remain, as ever
Your affect. Husband
J. F. Culver
Kiss baby for me.
Uriah Springer, a 27-year-old farmer, was mustered into service Sept. 8, 1862, as a private in Company A, 129th Illinois Infantry. Private Springer died on Christmas 1862 of measles in Hospital No. 5 at Bowling Green, Ky. Compiled Service Records of Union Soldiers, NA. [↩]
The deceased's parents were George and Uretta Taylor. In addition to Otis, they had two other sons—John and George. The father was a 45-year-old Pontiac Township farmer. Eighth Census, Livingston county, State of Illinois, NA. [↩]