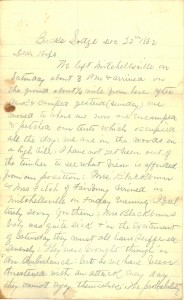 Bucks Lodge, Dec. 22nd 1862
Dear Wife
We left Mitchellsville on Saturday [the 20th] about 3 P.M. & arrived on the ground about 1/4 mile from here after dark & camped.1 Yesterday (Sunday) we moved to where we now are encamped & pitched our tents which occupied all the day. We are in the woods on a high hill.2 I have not yet been out of the timber to see what view is afforded from our position.
Mrs. Blackburn & Mrs. Fitch of Fairbury arrived in Mitchellsville on Friday evening. I feel truly sorry for them. Mrs. Blackburn's baby was quite sick, & in the excitement of Saturday, they must all have suffered severely. They were brought through in an ambulance, but as we have been threatened with an attack every day they cannot enjoy themselves. The probability [is] that we will fall back from this point very soon to some other place. I understand the ladies will start home immediately, &, as they came with the intention of staying all winter, they must be sorely disappointed. They lost their trunks & all their clothes on the way, & no one here has any opportunity to look for them.
My health is much better. I feel almost as well as ever though the Jaundice has not entirely left me.
I recd. a letter from Duff Saturday with Saul's letter enclosed. I find C. J. Beattie has gone to Chicago without paying as he promised. Employ some one to attend to it immediately. If Mr. Utley goes to Chicago, he will perhaps attend to it. I believe the amt. is $29.21. M. E. Collins has his receipt given to me for the note. Something must be done immediately. The money I am under bonds for & must be paid. It should have been paid the 1st of August & is due the heirs of J. H. Dart, decd. The Amt. to make up the balance is in the hands of M. E. Collins, & I fear has never been forwarded. I feel alarmed as it is a matter of more than ordinary urgency, & I must know if there is any possibility.3 Please do all you can.
Mrs. Smith & Maples are expected soon.
Give my love to all. It seems a long time since I have heard from home. Write soon
Your affect. Husband
J. F. Culver
The 129th Illinois had been ordered from Mitchellville to Buck Lodge on Dec. 20. There they would guard the Drakes Creek railroad bridges and the water tank. [↩]
There were several high hills, both over 900 feet, on either side of the railroad at Buck Lodge. USGS—Fountain Head Quadrangle—7.5 Series. [↩]
J.F.C. had been bonded as an executor of the Dart Estate. Duff had been his law partner, while Beattie and Collins were other Pontiac attorneys. [↩]