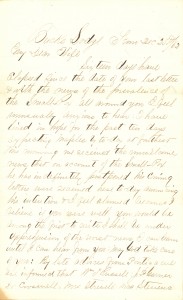 Bucks Lodge, Tenn., Dec. 25th 62
My dear Wife
Sixteen days have elapsed since the date of your last letter,1 & with the news of the prevalence of the Small-Pox all around you, I feel unusually anxious to hear. I have lived in hope for the past ten days expecting Maples by to-day at farthest. This morning we received the unwelcome news that on account of the Small-Pox, he has indefinitely postponed his coming.
Letters were received here today announcing his intention, & I feel alarmed because I believe if you were well you would be among the first to write. I shall be under apprehension of the worst news I can learn until I can hear from you. May God take care of you.
By late advice from Pontiac, we are informed that Wm. J. Russell, J. P. Garner, Dr. Croswell, Mrs. Strawell, Mrs. Stevens & others have the Small-Pox2 & that it continues to spread. I am sorry that I did not advise you at the earliest intimations of the disease to sell all & go east to Father's until Spring; now I fear it is too late. If you think not, go if possible. If we only had received our pay, you now might have sufficient money to go on.
I have but little more to say save that I am well. I am just informed that S. Bennet will go home to-morrow.3 I shall therefore wait until after the evening mail & finish to-night.
Christmas Evening!
The day has passed & no mail. I am informed that communication is cut of[f] by the Rebels some place North of Bowling Green. If it be so, it may be a long time before this reaches you, or before I hear from you.4 Rumors are so plenty[iful], however, that I do not credit it.
Mrs. Blackburn & Mrs. Fitch go home on Monday [the 29th] if they can get through, but as they will not risk going to Pontiac or seeing any one from there I shall not send by them.
We have but little news here, a few of the Companies regaled themselves of the good things from home today. I am indebted to Mrs. Blackburn for a piece of very nice cake. We had a can of oysters for supper to-night, making quite a palatable fare.
I wrote to you a few days ago, soon after our arrival in this place.5 I cannot boast of being mentally very bright to-night. Our company were up all night last night. The weather is very pleasant. We scarcely ever have fire unless to cook for the past week. It looks a little like rain just now & a prospect of its getting colder.
I should have been happy to have been present at the S. School gathering to-day, yet have feared that but few could assemble under the circumstances [the small-pox epidemic]. Tell me all about it.
I have not recd. the letter from Bro. Johnie yet. I should have written sooner & now feel sorry that I did not. I must now close with the hope that I shall soon hear from you. May God in his infinite mercy keep you from harm. If you can save yourself & babe by leaving, do not hesitate to sacrifice everything & go.
Give my love to all. I commit all unto the hands of God believing all is for the best & shall ever pray,
Your affect Husband
J. F. Culver