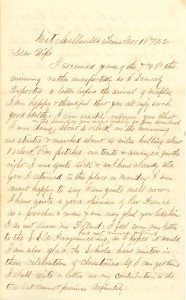 Mitchellsville, Tenn., Dec. 18th 1862
Dear Wife
I received yours of the 7th & 8th this morning, rather unexpectedly, as I scarcely expected a letter before the arrival of Maples. I am happy & thankful that you all enjoy such good health.
I can readily inform you what I was doing on the Sunday you were writing as you wondered.1 About 4 oclock in the morning [of the 7th] we started & marched about 14 miles halting about 1 o'clock P.M., pitched our tents, & arranged for the night. I was quite sick & as I have already told you, I returned to this place on Monday [the 8th].2 I am most happy to say I am quite well now.
I have quite a good opinion of Rev. Pearce as a preacher & man & am very glad you like him. I do not know Mr. Pollard.3 I feel sorry my letter to the S.S.U. Prayermeeting had not arrived in time, as I hoped it would. I am also glad the Schools have united in their celebration of Christmas.4 If I can get time, I shall write a letter as my contribution to the tree, but cannot promise definitely.
I cannot express the joy I feel that you manifest so much zeal for the Sabbath School. I feared that losing so many it might lag in interest & lose its numbers. I scarcely dared hope that under the circumstances you would feel interested. I do not pretend & I hope have no desire in my heart to even make a suggestion directing your actions. But my love & zeal for the prosperity of the School for which I have labored so hard & hoped for so much are a sufficient reason for the gratitude I feel.5
I expect that boy of ours will grow beyond all bounds if he keeps on; he must be quite large.6 I hope your health may not be impaired carrying & caring for him.
I should be full as happy to have you here as you possibly could be, & if I thought it practicable at all, I would urge you to come, but I dare not do it. The risk is too great.
I heard of the marriage of Mr. Foote a few days ago but scarcely credit it. I hope he may be happy & prosperous. If I had his address, I would write to him.7 You seem to think that your letters do not reach me. I think I have received all. Sometimes they come by way of Nashville, & are thus delayed but invariably reach me.
I was appointed to-day upon the Board of Survey for this post, which will occupy my time probably for several weeks.8 The nature of the business coming before us will give it much the nature of a court of inquiry. Our business will be to inquire into the loyalty of those persons asking indemnification from the government. The advantage will be that all our business will be in a comfortable room, a comfort I will relish very much.
I have never received Mr. Saul's letter; I fear it is lost. Josiah Wood of Pontiac is lying dangerously ill.9 I think he will die but may recover. We are all doing well. Lieut. Smith is expecting his wife soon. A letter from Maples to-day informs us that he will not start before the 22nd. Mrs. Blackburn & Mrs. Fitch of Fairbury will arrive here to-morrow.10 Give my love to all & now committing you to the hands of Providence for the present, Farewell.
Your Affect. Husband
J. F. Culver