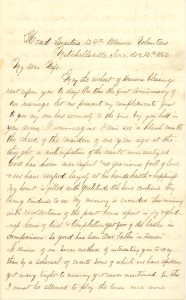 Head Quarters, 129th Illinois Volunteers
Mitchellsville, Tenn., Dec. 12th 1862
My Dear Wife:
May the richest of Heaven's blessings rest upon you today. On this the first Anniversary of our marriage, let me present my compliments first to you, my own love, secondly, to the fine boy you hold in your arms. I imagine I can see a blush mantle the cheek of the maiden of one year ago at the thought or anticipation of the result now realized. God has been merciful and gracious, full of love, & we have reaped, largely at his hands, health & happiness. My heart is filled with gratitude: Oh Lord, continue thy loving kindness to us.
My memory is crowded this morning with recollections of the past: hours spent in joy & gladness, hours of trial & temptation, yet few of the latter in comparison, so good has been "Our Father in Heaven," I know of no surer method of interesting you to-day than by a rehearsal of events, some of which we have spoken, yet many bright to memory yet never mentioned. In this I must be allowed to play the lover once more. I do not mean in the literal meaning of that word for I have never ceased to be your lover, but I mean in the general acceptation of the term, & it was in earlier life somewhat of a mystery to me why it should be thus. I trust, however, & believe it has been reciprocal in its most literal meaning.
I recollect a year ago this morning, surrounded with business, endeavoring to accomplish the task before me, while my mind was in another part of the town, friend Russell came to pay me a visit: Smiling & casting some very knowing glances, expressing much that he dare not audibly express, for the Office was crowded, but stepping aside, we had quite a lengthy conversation over "Coming Events." After he retired, a thousand thoughts came into my mind. The step I was about to take must tell on my whole life for weal or woe. If our tastes be congenial, if we succeed in contributing to each other's happiness, if we are led together by the hand of God, all is well; if not, have I the strength to stand the trial, if my wife be unhappy, discontented & fretful as many I have known, what would become of me? & then this other burning thought—if I fall below the estimate my intended has placed upon me, if she be disappointed, her hopes gone, her prospects blasted for life, what may be the result? All these things engaged my mind while to a casual observer I was busy examining records & doing general office business: thus the greater part of the day passed & evening drawing nigh, then thoughts of the past seemed to solve in part the future. How we have loved & expressed the same to each other, of our first acquaintance growing into friendship & then love, of hours so happily spent in each other's society.
I confess I came to you in the evening, strong in hope & purpose, fortified by the promises of God. I found you calm, trusting, confident, & thus together we pledged ourselves to love & cherish each other so long as we both shall live. One year has passed; to-day we are far separated from each other, surrounded by circumstances not the most flattering, yet in joy I give my testimony. You have for me solved the whole problem: faithful, true affection, & in every way worthy. You are my wife; you have made me happy. My most sanguine anticipations have been more than realized & rejoice in God that so great blessings have been vouchsafed to me. How I wonder this morning what the past has developed to you, what prospects in the future lie before you. I shall expect to hear when I secure from you the result of to-day's reflection.
I just received by this morning's mail yours of Dec. 3rd & am most happy to learn that you are all well. I expect Maples here this evening or to-morrow if he does not stop in Louisville. As you say nothing about Mrs. Smith coming, I presume she will not come.1 No women are allowed to travel South of Bowling Green, Ky., & even passing through Louisville are liable to be searched unless they have a pass. I shall feel quite sorry for both him & her should she come, as it will be quite difficult for him to get to Bowling Green to see her & then only for a short time.
We have had no mail trains for two days until this morning. Company A, F, D, & K are posted some eight miles south of Mitchellsville on the R. Road.2 I am informed this morning that they have been relieved & will return to-day or to-morrow. I have not been with the Company since Monday last [8th]. I have been ailing with the Jaundice for almost two weeks & returned to this place to take care of myself. I have not been confined to bed any part of the time & before you receive this, I shall be entirely recovered. My Complexion has been so yellow most of the time that I could scarcely recognize myself, but it is fast leaving. I have received very kind attention ever since I returned here & have enjoyed myself very much.
I wrote to you on your first intimation that the Small-Pox was in the neighborhood to have the babe vaccinated & hope ere this it has been done.3 It will do no harm to have it tried on yourself. I shall be happy if the disease proves to be other than the Small-Pox. I presume friend Russell is sorely tried. I should love to hear the prattle of our little one as you desire, but you will have to act my part. Kiss him for me.
The two School Orders you refer to were both paid to Dr. Johnson (then school treasurer) about the 4th or 6th of August, as he wished to credit them on a judgment vs. Rollings in favor of the school Trustees.4 I will go & see him now & have his explanation. Dr. Johnson, I understand, went to Bowling Green this morning & will not be home before to-morrow or next day.5 They were merely left in my hands for Johnson who at first refused to take them unless sufficient was paid to cancel the judgment, but he afterward accepted them, &, as I had no interest in the matter, & paid them as per Rollings' order. I took no receipt: I think the judgment is on See's Docket. I shall write, however, as soon as I can see Johnson.
It is now almost night. I have written at intervals through the day, having nothing else to do. I have kept it sacred to thoughts & reflections of our life as you requested me: 1st by anew consecrating myself to God & committing you & our little one to his tender mercies; then I spent some time in reading His word & afterward commenced this letter. Could I have written all my thoughts it would fill a volume. My plans for the future thus far developed are to lead a more consistent life, trusting in God for help; to contribute all in my power to the comfort & happiness of my family, & trust them in the hands of a kind Providence endeavoring to be resigned to the will of God. Many times to-day I have almost longed for Home but these thoughts do not trouble me when I am well & strong. I shall move forward in the discharge of what I believe to be the path of duty. If I fall, heaven will be my home where I shall meet you both ere long. But my hopes are bouyant; I fully expect to spend many years with you. I have believed God would spare us to gather our children around us & teach them the way to Heaven.
I think I have received all your letters. I shall expect one by the hand of E. R. Maples. Gagan tells me that friend Russell expects to pay us a visit. How happy I should be to see him. I hope he will come.
There is a rumor in camp that we will be paid off next week. I do hope it is so. I know you must need money very much. I sent you $5 in a letter a few days ago. Did you get it? I shall now leave my letter until after dark, or if no opportunity offers I will finish in the morning before the mail closes. I shall spend the evening, however, as the day, devoted to you. Since I last wrote, I have finished a letter to the Sunday School which I will enclose in yours.
As I came into camp from supper, Bro. Cotton invited me to his tent to have a season of prayer. We have held our prayer-meeting, & I feel that God is ever with those that call upon him. Let us, my dear wife, strive to be holy. O, there is so much real happiness in the full enjoyment of God's Love.
It is now about the hour in which with friends gathered around us, we commenced our life together. Can we make any improvement? I hope to hear many suggestions from you, &, if we are not both permitted to see another anniversary like to-day, I believe the day is coming when together in Heaven we shall be most happy forever.
I can add no more of interest. I may dream of home & wife, but it will add nothing to my enjoyment for it is all gone in a moment. I shall look anxiously for your letter. Give my love to Mother & all.
A man in Company G told me yesterday he had received a letter from your Father & that all were well. I think he said his name was Collins.6 I never knew him before. Allen Fellows is rather downcast that he receives no letters from his wife; he has had none for over a month save the one you sent. Kiss baby for me. Remember me kindly to all our friends & may the blessings of Heaven so plentifully bestowed upon us be continued.
Farewell,
Your Affect. Husband
J. F. Culver