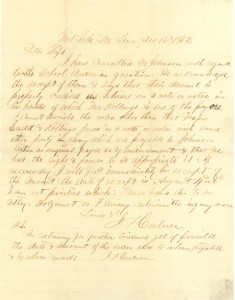 Mitchellsville, Tenn., Dec. 16th 1862
Dear Wife
I have consulted Dr. Johnson with regard to the School Orders in question. He acknowledges the receipt of them & says that their amount is properly credited as interest on a note or notes in his hands of which Mr. Rollings is one of the payors.
I cannot describe the notes other than that Messrs. Ladd & Rollings joined in a note or notes with some other party which are payable to Johnson either as original payee or by endorsement & that he had the right & power to so appropriate it.1 If necessary I will ford. Immediately his receipt of the amount. The date of receipt is August 4th or 6th, I am not positive which. Please hand this to Mr. Utley, Wolgamott or Fleming, wherever the inquiry arose.
Yours &c.
J. F. Culver
P.S. In returning for further evidence, get if possible the date & amount of the order, also to whom payable & by whom made.
J. F. Culver
Samuel C. Ladd was a 47-year-oid Livingston County farmer. In 1860 he was iiving with his wife, Mary, and their son, and he valued his estate at $18,000. Eighth Census, Livingston County, State of Illinois, NA. [↩]