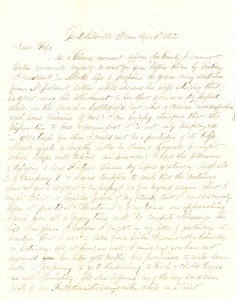 Mitchellsville, Tenn. – Dec. 11th 1862
Dear Wife
As a leisure moment offers opportunity, I cannot better reconcile myself to wait for your letters than by writing. I recollect in Abbott's life of Josephine, he gives many sketches from Napoleon's letters, while she was his wife, stating that so great was his attachment to her that scarce a day passed, while on the march or battlefield, but what a courier was dispatched with some missive of love.1 I am happy therefore that the disposition to love & manifest it is not only displayed in greatness, for then I could not be a partaker of its bliss.
I wrote quite a lengthy letter to Friend Russell to-night, which I hope will elicit an answer.2 I had the pleasure of enjoying a real Pontiac dinner day before yesterday [with] Mess No. 2 of Company G, & I was tempted to wish that the distance were not quite so great & expressage so far beyond reason that I might elicit a similar favor of my friends. But I could scarcely deem it practical.3
Christmas & New Year's are approaching. I wish you all a merry time & all the comforts & blessings this life can give.
I believe I forgot in my letter of yesterday to mention that I recd. a letter from Sister Jennie & Bro. Charley on Saturday.4 All at home are well. Jennie says you have not answered her letter yet. Mother [Culver] promised to write soon. Sister [Hannah] is preparing to go to Harrisburg to teach, & Chas. McGregor was well & flourishing.5 She also informs me of the very sudden death of Mrs. Postlethwaithe (Mary's mother) while on a visit.6 Bro. Wes is Assistant Surgeon in the 56th Regt. Penna. Vols. & is stationed near Washington, D. C.7 I believe that is all the news.
My health is quite good; I am gaining rapidly. I presume Maples & Mrs. Smith will be here by to-morrow evening. Many besides myself are looking anxiously for their arrival.
Lucian Perry got as far as Louisville, but I believe failed to get a pass through & could not come any farther.8 The Orders are very Strict, yet almost any business man may succeed. Quite a number go through on the road every day.9
Nothing new has occurred since I last wrote. All is going on well. Bro. Cotton & myself are bunking together for a few nights. We have a large comfortable fire on the hearth & are quite pleasantly situated. The floor get[s] rather hard sometimes before morning,but it is as good as we could wish under the circumstances. I shall expect to hear from you to-morrow night. Give my love to all. Write soon. For the present — Good night. May God protect and bless you.
Your affect. Husband
J. F. Culver