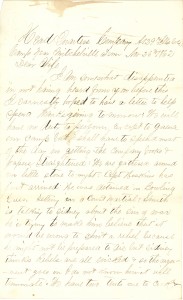 Head Quarters, Company A, 129th Ills. Vols.
Camp Near Mitchellville, Tenn. Nov. 26th 1862
Dear Wife
I am somewhat disappointed in not having heard from you before this. I earnestly hoped to have a letter to help spend Thanksgiving to-morrow. We will have no duty to perform, except to guard our camp, but I shall have to spend most of the day in getting the company books & papers straightened.
We are gathered around our little stove tonight. Capt. Hoskins has just arrived.1 He was detained in Bowling Green, setting in a court martial. Smith is talking to Sidney about the sin of war; he is trying to make him believe that it would be wrong to shoot a rebel because he might not be prepared to die, but Sidney thinks Rebels are all wicked & so the argument goes on. I do not know how it will terminate.
We have two tents, one to cook, & one to sleep in. Our sleeping tent is double & quite warm.
We got a chicken & some potatoes for Thanksgiving to-morrow. We will also have a ration of flour issued in the morning, & Lieut. Smith thinks he can make some cakes so we will have a fine dinner. I shall wonder what you have at home. Quite a number of the Officers have turkies for dinner, but we are not quite so lavish.
My health is very good, & we are getting along well. Col. Smith is expected here in a few days; he has been absent sick over a month. Bro. Gaff will be here to-morrow night; he is much better.2 Rockwell has gone home, & I presume is in Pontiac now. It is late. I have been often interrupted & must close. Give my love to all. Write soon, May God bless you all.
Farewell, Your affect Husband
J. F. Culver
Capt. John A. Hoskins had been on special duty, sitting on court martials at Bowling
Green, from Nov. 4-28, 1862. Compiled Service Records of Union Soldiers, NA. With Hoskins on detached duty, J.F.C. commanded Company A. [↩]
James H. Gaff, a 35-year-old blacksmith, was mustered into service on Sept. 8, 1862, as a corporal in Company G, 129th Illinois Infantry, and immediately promoted to sergeant. Sergeant Gaff was detailed to the division ambulance corps on May 23, 1864, and was mustered out at Washington, D.C., June 8, 1865. Ibid. [↩]