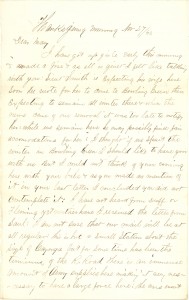 Thanksgiving morning Nov. 27/62
Dear Mary
I have got up quite early this morning & made a fire, & as all is quiet I felt like talking with you. Lieut. Smith is expecting his wife here soon. He wrote for her to come to Bowling Green, then expecting to remain all winter there; & when the news came of our removal, it was too late to notifv her. While we remain here he may possibly find fair accommodations for her. I thought if we spent the winter in Bowling Green, I should like to have you with us.1 But I could not think of your coming here with your babe, &, as you made no mention of it in your last letter, I concluded you did not contemplate it.
I have not heard from Duff or Fleming yet, neither have I received the letter from Saul. I am not sure that our mail will be at all regular. This [Mitchellville] is but a Small Station about the size of Cayuga,2 but for some time has been the terminus of the R. Road. There is an immense amount of Army supplies here making it very necessary to have a large force here.3 The cars went through to Nashville & returned yesterday for the first time. As soon as possible these stores will be shipped there, & then I presume we will be sent to some other post.
One of General Fuller's aids from Springfield is now passing through this State inspecting the condition of the troops. He will be with us a few days the first of next week, & we expect to get some changes made for the better. The affairs of our Regt. have been rather loosely conducted, & we have suffered some for it.4
The health of the Regt. is improving, especially that of Company A. We had quite a large number sick a few days ago, none are seriously ill but David Higbee of Reading.5 There is some doubt of his recovery; he is lying in Hospital No. 2 in Bowling Green.
I should be very happy to spend Thanksgiving with you to-day & hope before another year rolls round we may to-gether give thanks for a Union restored & the restoration of Peace & prosperity in the Land. I feel anxious to know what is being done, we get no news here at all reliable. I shall try and answer Mother [Murphy], Maggie [Utley] & Abbie's [Remick] letters to-day if possible.
The mail goes North early this morning, & we receive our mails in the evening. I shall look for a letter from My Dear Wife. May the richest of God's blessings rest upon you all. I hope you are getting along well. I have hoped to hear from Bro. Johnie before this & hope he is getting Strong. Why has Bro. Sammy not written? Tell all to write. And now, again, Dear Mary, I must say Adieu for a short time. Write to me as often as you find it convenient & believe me true until death.
Your Affect. Husband
J. F. Culver