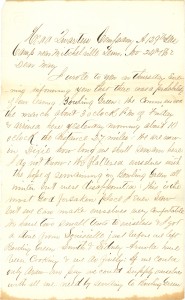 Head Quarters, Company A, 129th Ills.
Camp near Mitchellville, Tenn. Nov. 24th 1862
Dear Mary
I wrote to you on Thursday Evening informing you that there was a probability of our leaving Bowling Green. We commenced the march about 3 o'clock P.M. of Friday [the 21st] & arrived here yesterday morning about 10 o'clock, the distance 27 miles.1
We are now in Dixie, how long we shall remain here I do not know. We flattered ourselves with the hope of remaining in Bowling Green all winter but were disappointed. This is the most God forsaken place I ever saw, but we can make ourselves very comfortable.
We have two small tents to ourselves, & I got a stove from Louisville just before we left Bowling Green. [Lt.] Smith & Sidney Arnold have been cooking, & we do finely.2 If we could only draw our pay, we could supply ourselves with all we need by sending to Bowling Green.
My health is very good. I received a letter from Henry Greenebaum this morning containing some little news. I am several letters behind but will answer them as soon as possible. I shall expect a letter from you by to-night's mail. Give my love to all the family. I write in haste. Kiss baby for me. With love for yourself.
I remain, as ever, your affect. Husband
J. F. Culver
Lt. Col. Henry Case had commanded the regiment on the march south from Bowling Green. On his arrival at Mitchellville, on the morning of the 23d, he found the post in charge of Col. Henry A. Hambright of the 79th Pennsylvania Infantry, the brigade commander John C. Starkweather being absent. Colonel Hambright was surprised to find that the 129th Illinois had been directed to relieve his command, as he had received no orders in this respect from his immediate superior, General Rousseau, to proceed to Nashville. Colonel Case was placed in an embarrassing situation when Colonel Hambright declined to accept his offer of assistance in guarding or unloading supplies. Hambright predicated his refusal on the probability that his brigade would be ordered to Nashville within several days, and "it would only introduce confusion" if the 129th participated in this activity. He would, however, allow the 129th Illinois to help picket the area. Case to Granger, Nov. 30, 1862, Letter Books, 129th Illinois, NA. [↩]
Sidney Arnold had been hired by the officers of Company A to be their cook and orderly. [↩]