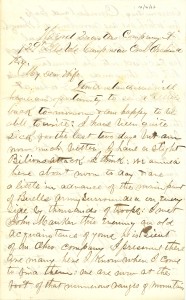 Head Quarters, Company A [Octr. 16, 1862]
129th Ills. Vols., Camp near Crab Orchard, Ky.
My Dear Wife
I understand we will have an opportunity to send letters back to-morrow & am happy to be able to write. I have been quite sick for the last two days but am now much better. I have a slight Bilious attack, I think. We arrived here about noon to-day & are a little in advance of the main part of Buell's army, surrounded on every side by thousands of troops.1 I met John Manker this evening, an old acquaintance of yours. He is Lieut. of an Ohio Company.2 I presume there are many here I know when I come to find them.
We are now at the foot of that numerous ranges of mountains surrounding Cumberland Gap for which we are now bound. Through the supposed treachery of General Buell, the Rebel Army under Bragg has escaped into the mountains.3 With the thousands of troops, he could have easily been taken, & when at Perryville without Buell's consent General Jackson attacked Bragg, there were troops enough within a few miles to have surrounded and outnumbered him 3 to 1, they were notallowed to come up.4 Now we have 90 miles over mountains to the Gap, & I am informed we will be detained here some ten days giving the rebels sufficient time to fortify themselves.
It is boldly asserted that Buell & Bragg have been together every few days since they left Louisville, & I feel sure that if ever the troops ever get sight of Buell he will share the fate of General Nelson instantly.5
I have but little hope for the success of our cause while these things last. We will now march to Cumberland Gap at a cost of hundreds of lives; but these things cannot be too publicly talked of, do not commit me in them.
I wrote you quite a long letter a few days ago & hope ere this you have recd. it. If we remain here, I shall endeavor to write often. We have left a large number of men behind, sick & lost, a good many who gave out on the road. We were short 400 men in the Regt. when we arrived in Camp to-day, but many have arrived & they are still coming in. I hope by the mail from Frankfort I shall hear from you. Give my love to all. May the blessings of Heaven rest upon you. Farewell.
Your affect. Husband
J. F. Culver