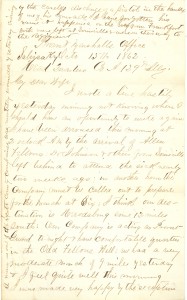 Provost Marshall's Office, Salvisa, Ky., Octr. 15th 1862
Head Quarters, Co. A. 129th Ills.
My Dear Wife
I wrote a line hastily yesterday morning not knowing when I should have an opportunity to write again. I have been aroused this morning at 2 o'clock A.M. by the arrival of Allen Fellows, Dr. Johnson & others from Louisville, left behind to attend the sick nearly two weeks ago.1
In another hour the Company must be called out to prepare for the march at Six. I think our destination is Herodsburg, some 12 miles south. Our Company is acting as Provost Guard to-night & have comfortable quarters in the Odd Fellows Hall. We had a very moderate march of 9 miles yesterday, & I feel quite well this morning.2
I was made very happy by the reception of your letter of Octr. 2nd, being only the second since I left home. You cannot imagine how anxious I am to hear each day from you & how happy to know that you enjoy such good health. How often since the receipt of your last letter I have tried to imagine how my wife looked (with baby at his breakfast) writing to me, & only this morning awakened suddenly to clasp you both in my arms when, lo! it was a dream, or how many times I have dreamed I was home in bed with you in my arms when I awoke & found the dews of Heaven falling upon me. Yet I shall content myself with endeavoring faithfully to follow in the path of duty & thank our God for the many favors & blessings conferred upon me in giving us all health.
We received a dispatch last night from Perryville stating that Genrl. Bragg was captured with 30,000 of his men. We can scarcely credit it as it is almost too good to be true.3 We have six prisoners with us to-night & sent 100 to Frankfort yesterday morning. We will get near enough the battle field to-day to know all the particulars.4 We suffer most for water, it being very scarce. We have had only two or three cold nights, rest of the time it was quite pleasant.
I am glad to hear that you have got Coal, but am sorry I am as yet unable to send you any money. I have felt considerable uneasiness lest you should not have sufficient. I do not know when pay-day will come around. I would like to know whether Jo Wolverton is urging the payment of my note now past due signed by Dehner & Russell as security; please enquire through Russell & let me know.
Miller's Battery is still in Louisville. The Board of Trade Battery is attached to our Brigade.5 I saw Jas. Rollings in Louisville; he was then quite well. I shall be very happy to get a likeness of Mary & your boy. Kiss both for me.
I wish I had time to write to more of our Friends in Pontiac, but we are on the march nearly all the time & what little time we are in camp have no conveniences for writing. I should like much to get hold of a Chicago paper occasionally to hear how the war is progressing; we get no news here. I think we will succeed in clearing Kentucky soon, & we may get much farther south before the winter sets in.
Give my love to all our friends. I hope Bro. John [Murphy] may soon recover. I expected to hear from Utley before this but presume he is busy.
How are my business matters going on? C. I. Beattie was to pay Collins about $30 to be applied on the Dart Estate. Please ask Mr. Utley if it is settled; I do hope it is. I am sorry to hear of Mrs. Strevell's illness & hope she will soon recover.
I am happy to hear that you will so soon be able to attend S. School again. Please remember me to those dear children. How does the school prosper? I thought I should have had an opportunity to write to them before this & shall try to do so soon.
Remember me kindly to all, & now, Dear Mary, it has been my constant prayer that God would bless you & keep you. I may be spared to return to you & God may see fit to do otherwise, but thanks for his promises we shall all meet in Heaven. Do not forget to pray for me & may God's blessings ever rest upon you. Farewell.
Your affect. Husband
J. F. Culver
P.S. A man in one of the Scott County companies was mortally wounded yesterday evening by the careless discharge of a pistol in the hands of one of his comrades. I have forgotten his name. It happened on the way from Frankfort. Both were left at Louisville & were on their way to the Regiment.6