Each week we will highlight one of the many databases we have here at the Pomerantz Business Library.
The database: Freedonia Focus Portal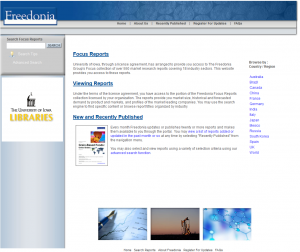 Where to find it: You can find it here, and under F in the databases A-Z list.
Freedonia Focus portal is a collection of over 550 industry market research reports, covering 18 industry sectors.
Use it to find:
Industry market research reports

Market size, historical and forecasted demand by product and markets, and profiles of the market leading companies

Industry sectors include: Automotive and Other Transportation; Chemicals; Construction; Consumer Goods; Electronics; Energy and Power; Food, Agriculture, Tobacco; Industrial Components; Life Sciences (Pharmaceuticals/Medical); Machinery; Metals and Minerals; Miscellaneous and Service Industries; Packaging; Paper, Printing and Publishing; Plastics; Rubber; Textiles, Apparel and Leather; and Wood, Furniture and Fixtures
Tips for searching:
Use the quick search bar, or the advanced search
Browse by Country or Region
Once you have picked a region, browse by industry sector
Want help using Freedonia? Contact Willow or Kim and set up an appointment.